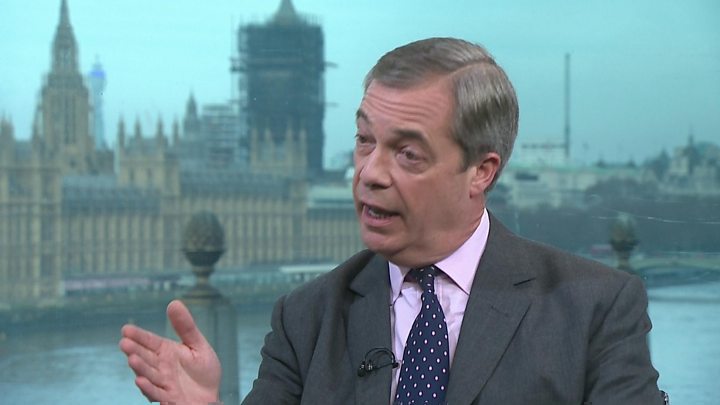 Media playback is unsupported on your device
Media captionNigel Farage says three of the MEPs who have left his Brexit Party have links to the Conservative government
Brexit Party leader Nigel Farage has hit out at three MEPs who quit the party and are now urging voters to back the Conservatives in the election.
He told the BBC that Annunziata Rees-Mogg, Lance Forman and Lucy Harris had strong personal links to the Tories.
But the MEPs say the Brexit Party's participation in the election will split the Leave vote.
A fourth MEP, John Longworth, lost the whip on Wednesday for criticising the party's election strategy.
The Brexit Party, which is not contesting seats won by the Conservatives in the 2017 general election, has maintained it is taking votes away from Labour in areas Leave-supporting areas where it is standing.
And it says it is saving the Tories from losses to the pro-EU Liberal Democrats in the south of England.
The four former Brexit Party MEPs are asking voters to back Boris Johnson's Conservatives in order to "deliver" Brexit, by giving him enough MPs to get his deal with the EU through Parliament.
Asked about the resignations of Ms Rees-Mogg, Ms Harris and Mr Forman from his party, Mr Farage told the BBC's Andrew Neil: "One of them [Ms Rees-Mogg] is the sister of a cabinet minister. Another one has a boyfriend working for that cabinet minister and another one is a personal friend of Boris Johnson's."
When challenged on whether he was smearing the MEPs, Mr Farage said he was presenting the facts.
"They joined the Brexit party. They joined the coalition that I put together. They clearly were disaffected with Mrs [Theresa] May as leader," he said. "We are not the Conservative Party."
Mr Farage added: "I tell you something – Boris Johnson's deal unamended is unacceptable. I certainly stand by that."
The MEPs have also called for Mr Farage to stand down his candidates in the 12 December election.
"It continues to be very detrimental to the hopes for Brexit," said Ms Rees-Mogg, a former Tory parliamentary candidate and sister of House of Commons Leader Jacob Rees-Mogg.
"Splitting the Leave vote is dangerous and will undo all the good the Brexit party has done."
The Brexit Party, formed earlier this year, won 29 seats in July's European Parliament elections.
In November Mr Farage announced it would not contest the 317 Westminster seats the Conservatives won in 2017, in order to help Leave-supporting candidates win.
'Hammering Labour'
Mr Longworth had been critical of this decision, arguing that the party should be targeting between 20 and 30 seats.