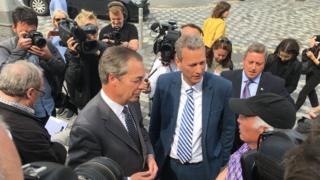 Image caption Nigel Farage and MEP Nathan Gill meeting voters in Merthyr Tydfil ahead of May's European elections
Nigel Farage has predicted his Brexit Party will do "very well" in Welsh Labour heartland seats in the election.
He confirmed the party will fight all 40 seats in Wales, but would not forecast if it would win any.
Mr Farage said the party would focus on areas which voted Leave in the EU referendum, but which were represented by Remainer MPs in the last parliament.
He also voiced his frustration that there is no "Leave alliance" with the Conservatives.
Mr Farage said he had hoped a Leave alliance could have combated the "Remain alliance".
In 11 Welsh seats candidates from Plaid Cymru, the Liberal Democrats and the Green Party will stand aside for each other to increase the chances of a Remain-supporting MP being elected.
The Lib Dems and Greens have the same pact in 49 English seats.
"There has been some talk maybe of Boris Johnson doing a deal with us," said Mr Farage. "I have said for months now that I thought a Leave alliance would be a very good idea, but apparently that's not wanted."
Mr Farage pledged that his party would support the Welsh Assembly and contest the next assembly election, in 2021.
Image caption The EU's Michel Barnier is reported to have said privately the bloc's future relationship with the UK will take two to three years to negotiate
Asked how many seats in Wales his party would win at this election, Mr Farage said: "I've no idea. Do you know, when I launched the campaign for the European elections, going back to April this year, I had no idea how we would do.
"We comfortably topped the poll in Wales, coming first in many, many seats."
He said the problem with the Conservatives' EU deal was that it was "not Brexit" and added that the EU's chief negotiator Michel Ba