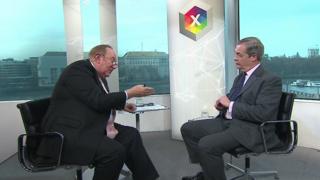 The Brexit Party leader Nigel Farage was the fourth party leader to be interviewed by the BBC's Andrew Neil in this election campaign.
They covered a number of topics, including immigration and the NHS, life after Brexit and the impact of his previous party, UKIP. BBC Reality Check looked at four of his claims.
Claim: "There are eight million more people living in this country today than there were when Tony Blair came to power in 1997"
Reality Check: Nigel Farage is correct that the UK population has increased by about 8 million since 1997, to about 66 million, according to the Office for National Statistics.
Claim: Immigration has put a "massive burden" on the NHS
Reality Check: Nigel Farage made this claim in response to Andrew Neil's questions about how he'd fill vacancies in the NHS and social care, if there were controls, after Brexit, on EU migrants coming to the UK to work. Mr Farage said, in fact, immigration had put a "massive burden" on the health service.
So, what does the evidence show?
The Migration Advisory Committee, an independent public body that advises the government, looked at this as part of its report into the effects of immigration from the European Economic Area (EEA).
It found that migrants from Europe "contribute much more to the health service and the provision of social care in financial resources and through work than they consume in services."
It said migrants from the EEA tend to be younger and healthier than the UK-born population, and consume fewer NHS services than them.
It found "no evidence that migration has reduced the quality of healthcare."
According to the Health Foundation 13.3% of the entire workforce of NHS staff in England, and 28.4% of doctors, are from outside the UK (both EU and non-EU).
Claim: The UK will be tied to EU rules after Brexit
Reality Check: Nigel Farage said: "Just take Article 77 of the political declaration, it says on everything, even taxation, we'd be tied to EU rules." Mr Farage was taking issue here with parts of the Political Declaration – it's the document that sits alongside Boris Johnson's Brexit deal.
It sets out a framework for the relationship between the UK and the EU after Brexit but is not legally binding.
Article 77 pledges that the two parties will create a "level playing field", by upholding current standards in "areas of state aid, competition, social and employment standards, environment, climate change, and relevant tax matters".
The intention is to prevent UK companies from out-competing European rivals by adopting weaker standards on areas like employment, or by receiving unfair government subsidies.
While there is no legal obligation to follow the Political Declaration,