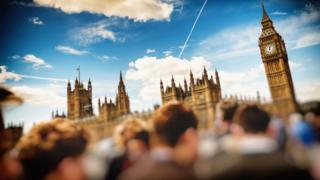 Image copyright Getty Images
Plenty of promises have been made by politicians in the election campaign – but what big issues haven't cut through?
1. The UK's role in the world
One of Prime Minister Boris Johnson's favourite slogans, Global Britain, doesn't actually appear in the Conservative manifesto. There have been arguments about potential post-Brexit trade deals with the US.
Global issues such as climate change have featured prominently. And international issues were discussed during the Nato summit. But in-depth discussions about the kind of relationship the UK might want with the rest of the EU, if Brexit was to happen, have largely been avoided.
Trade talks, both with the EU and other countries around the world, could be a dominant political issue for years to come. But the choices that would have to be made, and the effect they could have on businesses up and down the country, haven't been addressed in any detail.
2. Children's services' problems
More than 78,000 children in England are now being cared for by local authorities, according to the latest official statistics – a new high. And in the last decade, the number of inquiries carried out because of fears a child is at risk, has increased by 139%, or 120,000. At the same time, council budgets have been cut.
The problems of increasing demand and shrinking finances are well known to politicians from the crisis in adult social care. But the acute difficulties also facing children's services have not been high-profile during the election.
The major party manifestos acknowledge the system's need for review and investment, but timescales are less clear.
They say:
Labour will review the care system and rebuild early intervention
The Conservatives will review the care system and improve the Troubled Families programme
The Lib Dems will invest in children's centres and increase free childcare
The reasons for the pressures are complicated but academics say rising poverty and cuts to services providing early support for problems are factors. Councils have a legal duty to step in if a child needs protecting and many are overspending to do this.
It is a growing, unpredictable cost pushing more and more authorities towards a financial precipice. Tragically, it is also a sign many young lives are in turmoil.
3. More universities
Universities have been under the cosh over high fees,