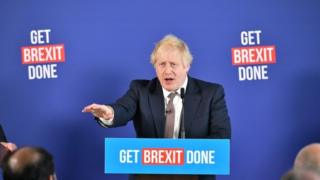 Image copyright PA Media
Boris Johnson has pledged to make it easier to help struggling UK companies after Brexit, if the Tories win the general election.
The PM said being free of EU rules on state aid would make it quicker to intervene, and bring in "buy British" guidelines for public bodies.
He added that an Australian-style immigration system would be in place in place by 1 January, 2021.
But Labour criticised the Tories' past record of supporting industry.
Shadow transport secretary Andy McDonald said the prime minister's promise on state aid rules "sticks in his throat".
He said the Conservatives had "sat on their hands and used state aid as an excuse" when refusing to intervene to save a steel works in his Teesside constituency in 2015.
Business lobby group the Institute of Directors said the PM's proposals "suggest a retreat away from free and open markets" and would have "clear implications" for the UK's ability to negotiate a post-Brexit trade deal with the EU.
Free market think tank the Institute of Economic Affairs said greater use of state aid to help firms in trouble would "translate to veiled support for cronyism".
Earlier on Friday, SNP leader Nicola Sturgeon said she was hoping for another hung parliament, with her party holding the balance of power.
Mr Johnson has guaranteed that if the Conservatives win a working majority, the UK will leave the EU by 31 January at the latest.
'Brexit roadmap'
Under the terms of the withdrawal agreement, free movement from the EU will continue for 11 months after Brexit during a transition period.
Mr Johnson said a new Australian-style immigration system would be in place when the current rules end on 31 December 2020.
Under this scheme, those applying to come to the UK would be awarded points based on professional and personal characteristics, similar to the existing system for non-EU nationals.
The PM wanted to set out not just the timescale for leaving the EU but what he saw as the benefits of Brexit for voters
While the Conservatives were once the party of free trade, Boris Johnson donned the cloak of protectionism by outlining a new post-brexit state aid regime.
And he said public bodies would be encouraged to adopt a "Buy British" policy to boost local economies. Critics say these measures would impede attempts to strike a trade deal with the EU.
Mr Johnson also declined to say that no-deal preparations would be stood down but expressed confidence a trade agreement would be struck by the end of next year.