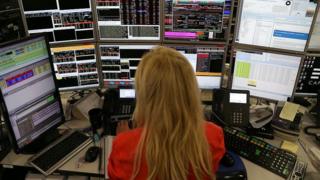 Image copyright Getty Images
The pound and shares have surged after the Conservatives won a clear majority in the UK general election.
Sterling gained 2.1% to $1.34 – its highest level since May last year – on hopes that the big majority would remove uncertainty over Brexit.
The pound also jumped to a three-and-a-half-year high against the euro.
On the stock market, the FTSE 100 share index rose 0.8%, while the FTSE 250 – which includes more UK-focused shares – leapt 5% in early trade.
Prime Minister Boris Johnson said the election result meant that the Conservative government "has been given a powerful new mandate, to get Brexit done".
Mr Johnson has pledged to take the UK out of the European Union by 31 January.
Politically sensitive shares saw sharp rises in early trading on UK markets.
Shares in water companies such as Severn Trent, which faced the possibility of nationalisation under a Labour government, shot up 10%, while UK housebuilders also saw big gains with a massive 14% rise for Persimmon.
Shares in Barclays, RBS and Lloyds were up 7% and 12% and 15% respectively.
The financial bookies had already installed Boris Johnson as the favourite, but did not expect him to romp home by such a distance.
The pound moved sharply higher as soon as the exit poll was published and went on to post one of its biggest one-day gains against the dollar in nearly three years.
Ian Tew, sterling trader at Barclays, told the BBC that Johnson's decisive victory had "removed a layer of uncertainty".
That is well put – there are many other layers for the markets to now focus on. The challenge of completing a trade deal with the EU by this time next year is formidable and traders on the Barclays floor are already muttering about the prospect of a new Scottish independence referendum.
Markets have given the prospect of a government with a functioning majority a round of applause, but at time of writing, the value of the pound is already beginning to retreat from the highs it hit overnight.
Pound v Dollar