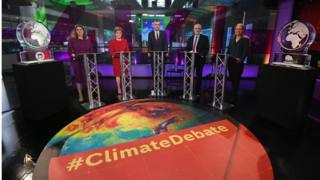 Image copyright Getty Images
The Conservative Party is embroiled in a row with Channel 4 over the broadcaster's decision to "empty chair" Boris Johnson during its election debate on climate change last night.
Minister Michael Gove offered to take his place, but the broadcaster said the invitation was for leaders only.
The party wrote to Ofcom saying placing an ice sculpture on the PM's podium was a "provocative partisan stunt".
Labour has accused Mr Johnson of "hiding from scrutiny".
Urging the regulator to take action against Channel 4, the Conservative Party accused the broadcaster of breaking its duty to be impartial and citing other alleged examples of bias.
In a letter to Ofcom, the party says Channel 4 News staged a "provocative partisan stunt, which would itself constitute making a political opinion in its own right" by substituting the PM with an ice sculpture.
Conservative sources also briefed journalists at BuzzFeed News and the Telegraph that "if we are re-elected we will have to review Channel 4's Public Services Broadcasting obligations".
Channel 4's public service broadcasting licence is up for renewal in 2024.
Labour's deputy leader Tom Watson said it was "deeply concerning for Boris Johnson's Conservative Party to threaten Channel 4 in this way".
Image copyright PA Media Image caption Channel 4 replaced Boris Johnson with an ice sculpture which slowly melted during the debate
Mr Watson has written to Ofcom to urge the regulator to "call out this meddling".
His letter adds: "Boris Johnson has banned the Daily Mirror from its battle bus, ducked the Andrew Neil interview and now attempted to bully Channel 4."
Mr Gove, a former environment secretary, said he was disappointed not to be allowed to take part in the climate debate, adding: "We have a record we are proud of and we want to defend."
Channel 4 also replaced Brexit Party leader Nigel Farage with ice in the hour-long programme.
Channel 4 News editor Ben de Pear said: "These two ice sculptures represent the emergency on planet earth, not in any human form but are a visual metaphor for the Conservative and Brexit parties after their leaders declined our repeated invitations to attend tonight's vital climate debate."
The Emergency On Planet Earth debate featured Labour leader Jeremy Corbyn, Liberal Democrat leader Jo Swinson, Scottish First Minister and SNP leader Nicola Sturgeon, Plaid Cymru's leader Adam Price and Green co-leader Sian Berry.
"Empty chairing"