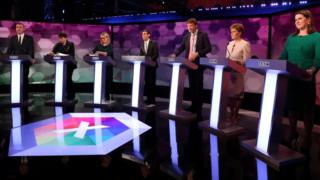 Image copyright Getty Images
Senior figures from seven political parties have taken part in a BBC election debate.
BBC Reality Check has been looking at some of the claims made during the course of the 90-minute programme.
Image copyright Getty Images
Conservative Rishi Sunak claimed: "We've outlined a plan for £34bn [for the NHS], that will go on putting 50,000 more nurses on our wards, 50m more GP appointments and new and upgraded hospitals."
Reality Check: The Conservatives have been grilled a lot over the 50,000 more nurses pledge. They say they will increase the nursing workforce in England from 280,000 to 330,000 by 2024-25.
About 30,000 of these will be from training, apprenticeships and recruitment from abroad. However, the rest will be from keeping nurses who might otherwise have left the profession. A survey by the Nursing and Midwifery Council suggested that about 50% of those leaving were due to "disillusionment" or "pressure".
How many nurses does the NHS need?
Current trends in demands and nurse recruitment
Source: Health Foundation