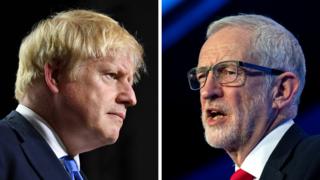 Image copyright Getty Images
TV election debates are still a bit of a novelty in the UK.
Each time an election is called, there's the question of whether any will take place, how they will be organised and who will take part. Broadcasters are still experimenting – this time putting on two-way debates, seven-way debates, a climate change debate and a special youth audience debate, among other permutations.
So is there room for improvement? And, if so, what might that look and sound like? Here are some expert suggestions.
1. Turn off the microphones
Image copyright WPA Pool/Getty Images Image caption Then Home Secretary Amber Rudd and Ukip leader Paul Nuttall took part in the 2017 debates
No-one likes it when leaders interrupt and talk over each other. It puts the focus on confrontation rather than discussion and does little to showcase anyone's qualities as a potential prime minister. As US academic Bryan Van Norden puts it, writing for the Hipporeads website, "There is absolutely no professional or political context in which elegantly interrupting others or being interrupted by others is a useful skill."
He suggests simply switching off leaders' microphones when it's not their turn to speak. As soon as each person has finished talking, off it goes and the next one turns on.
Knowing they will go silent could also stop them "filibustering", or trying to run down the clock by refusing to stop talking.
2. Go old-school – force politicians to just… debate
Image caption Tony Benn and Roy Jenkins debated each other in 1975, with David Dimbleby moderating
UK televised debates tend to feature glitzy sets, rows of podiums and heavy intervention from moderators. They are also often quite short by international standards. Time can therefore be tight and the result heavy on soundbites and low on substance.
It wasn't always like this. One of the UK's earliest televised political debates was between rival Labour frontbenchers Roy Jenkins and Tony Benn during the 1975 European referendum campaign. They debated the single issue for 50 minutes, with no studio audience, no fancy set and very little intervention. Its often viewed now as a model of "proper" debate – two intellectual heavyweights tussling with serious issues, listening to each other's points and responding reasonably.
The French presidential debates have run on a similar no-frills model since the 1970s. Candidates sit across a table and there's no studio audience. The most recent, between Emmanuel Macron and Marine Le Pen, lasted two-and-a-half hours and drew an audience of 16.5 million. It was brutal, with the pair trading bitter insults, "but it didn't half make for riveting viewing," said BBC Paris correspondent Hugh Schofield.