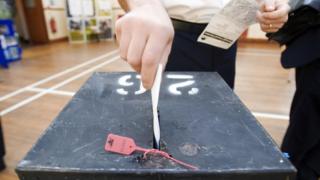 Image copyright Getty Images
No matter how many opinion polls you run ahead of a general election, you can never know the result until those ballot papers are counted.
And it is candidates in the marginal seats who will be facing the biggest pressure on polling night.
Perhaps even more stress will be piled on the big names who don't want to hit the headlines for losing their place in the Commons.
Think Tory stalwart and cabinet minister Michael Portillo in 1997, or shadow chancellor and Labour loyalist Ed Balls in 2015.
No-one wants a "moment" named after them, but which big guns are facing possible defeat on 12 December?
The traditional definition of a marginal seat is a constituency where the sitting MP won by a margin of 10% or less at the last election.
Using this logic, there are 169 marginal seats across the UK, but in the increasingly volatile world of British politics even those with a bigger cushion are sometimes far from safe.
Image copyright Getty Images Image caption Boris Johnson giving his victory speech after winning Uxbridge in 2015
Boris Johnson won the seat of Uxbridge and Ruislip South in West London by a majority of just 10.8% of the vote in the 2017 general election.
Compare this to the last majorities of former PMs – 50.2% for Gordon Brown, 45.5% for Theresa May, 44.5% for Tony Blair and 43% for David Cameron – and you can see why this could lead to the biggest upset of the night.
There was a 13% swing to Labour in Uxbridge in 2017 and the opposition parties – including Labour campaign group Momentum – are pushing hard to unseat the PM.
The opposition dream result goes like this: it's the morning after polling day and Boris Johnson isn't even an MP.
Activists trying to oust him claim their supporters have turned out in their hundreds to help. They hope young and ethnic minority voters in Uxbridge could tip the balance.
Is there more to this than hope?
One recent estimate based on nationwide data suggested that while some of his high-profile colleagues could struggle, Boris Johnson would see an increased majority. Another, similar estimate is due shortly.
But stress that word "estimate". Most in the business of forecasting the political future are cautious these days.
If he did lose his seat, and the Conservatives win the general election, what then?
There is a precedent for a prime minister who is neither a member of the House of Commons or House of Lords.