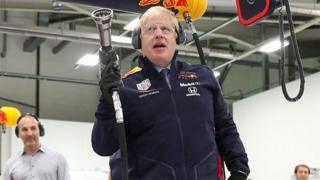 Image copyright AFP
Boris Johnson says he will take the UK out of the EU, present a "tax-cutting" Budget, and deliver on manifesto pledges on crime and health within the first 100 days if he wins the election.
As the campaign enters its final week, the PM said only a Tory victory would end the Brexit uncertainty and get MPs "working on the people's priorities".
If re-elected, he said schools and the NHS would get immediate extra cash.
But Labour said their opponents only offered "more of the same failure".
The Lib Dems said the Conservative plans were "pure fantasy", while the SNP warned there were seven days left to "lock" Mr Johnson out of Downing Street.
Voters will go to the polls on 12 December for the third election in just over five years.
Mr Johnson has said the snap poll is the only way to end months of Brexit paralysis in Parliament. He has guaranteed that the UK will leave the EU by the 31 January deadline if the Conservatives get a working Commons majority.
He has promised to bring his EU withdrawal agreement back for initial approval by MPs before Christmas. He also said he will set out his wider legislative agenda in a Queen's Speech pencilled in for 19 December.
Outlining his plans for the first 100 days, Mr Johnson said his government would take "urgent action" on the cost of living in a Budget in February, which he said would also "take advantage of the opportunities of leaving the EU with a deal".
He pledged to:
"Enshrine in law" the £39.9bn a year in extra funding promised for the NHS in England by 2023
Carry out a review of the UK's defence and security capabilities while legislation will be passed to end the automatic early release of serious violent offenders half way through their sentences, the subject of a bitter political row in the wake of last week's London Bridge terror attack
Start recruiting 20,000 police officers, boosting nursing numbers in England by 50,000 and starting cross-party discussions on social care funding
Mr Johnson has shelved a planned cut in corporation tax to free up £6bn for more public spending, but will see £2.5bn less from a rise in the National Insurance threshold.
He has promised to increase the threshold to £9,500 in the first budget of a Conservative government, which the independent Institute for Fiscal Studies says will save workers about £85 per year.
Plans to raise the threshold further,