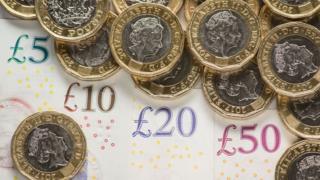 Image copyright PA Media
The Conservatives have raised £5.7m in the first week of the official election campaign, according to the Electoral Commission.
The Tories received 87% of registered donations in that period, figures show, while Labour raised a total of £218,500.
The Lib Dems received £275,000, whilst the Brexit Party raised £250,000.
But the figures do not represent all donations, as only those above £7,500 have to be reported.
The biggest gift to the Tories was £1.5m from theatre producer and regular donor John Gore.
Meanwhile, the largest single registered donation to Labour was £62,000 from the Unite union, led by Jeremy Corbyn ally Len McCluskey.
BBC political editor Laura Kuenssberg said the figures showed an "astonishing gap in fundraising".
The discrepancy between the two main parties is even wider than in the first week of the 2017 campaign, when the Tories raised £4.1m in comparison to the £2.7m received by Labour.
In addition, BBC political correspondent Chris Mason said he understood the Conservatives had raised more than £4m in unregistered smaller donations since the beginning of the election campaign.
This is four times the £1m in small donations – averaging £26 each – that Labour says it has received over the same period.
In the first week of the current campaign, the Green Party raised £30,000 in registered donations – half the £60,000 raised by the Alliance Party of Northern Ireland.
This is the first UK-wide election when pre-poll donations and loan reports have been published for parties in Northern Ireland.
Money received during the other weeks of the five-week official election campaign will be detailed in later releases.
For Labour, 70% of registered donations came from unions.
For the Conservatives, 47% of the party's donations ca