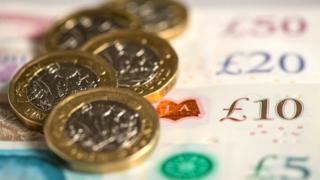 Image copyright PA Media
The Conservatives raised more than £2.5m in large donations during the final reporting week of the election campaign, more than any other party.
The Brexit Party took in nearly £1.5m during the same period, while Labour came a distant third with £165,471.
The Electoral Commission reported £130,000 in donations to the Lib Dems during the 4 to 10 December period.
The figures do not represent all donations, as only those above £7,500 have to be reported.
Donations received during the final two days of campaigning in the run-up to the poll on 12 December will be reported on Monday.
Among smaller parties, the Green Party took in £24,727, while Advance Together, a party set up after the Grenfell Tower fire to call for more local accountability, reported receiving £39,750.
The biggest donation to the Conservatives was £500,000 from hedge fund manager Jonathan Wood, who was also a donor to Boris Johnson's leadership bid.
About three-quarters of large donations received by the Conservatives came from individuals, with almost all the rest coming from companies.
The party's coffers were also boosted by a £500,000 loan from the Trailfinders travel agency.
Labour's biggest registered donation during the period was £75,000 from trade union Associated Society of Locomotive Engineers and Firemen (ASLEF).
Meanwhile, all of the near-£1.5m raised by the Brexit Party came from businessman Christopher Harborne, a former donor to the Conservatives.
Tories widen lead
The latest figures continued to show a widening gap between large donations received by the two main parties during the course of the campaign.
Official reports published so far put the Conservatives on nearly £18m in registered gifts, compared with £5.4m raised by Labour.
The Brexit Party is currently third with reported donations of £4.1m – with Mr Harborne accounting for nearly £3.5m of their total.
The Liberal Democrats are on £1.2m so far, and the Green Party is on £242,477.
The biggest non-individual donor across the reporting period so far has been the union Unite, which has given £3.2m to the Labour Party.
Analysis by Daniel Kraemer, BBC Political Research Unit
As with every general election, money started flying around shortly after MPs backed the poll in late October.
Large donations taken by the Conservatives in the