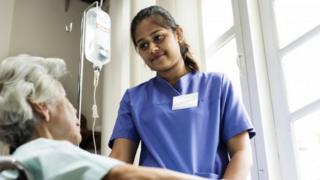 Image copyright Getty Images
The Conservatives say they will make it easier for doctors and nurses from around the world to work in the UK after Brexit, if they win the election.
The party would introduce an "NHS visa" as part of a promised "points-based immigration system".
But Labour said the policy was "full of holes," with nothing to say about low-paid nurses and other hospital staff.
And the Royal College of Nursing said "more ambitious" plans were needed to address NHS staffing shortages.
The Conservatives plan to end free movement of workers from EU countries when the UK leaves the EU – something they have promised will happen on 31 January if they are returned to power on 12 December.
The party would introduce a "points-based system" for migrant workers from EU and non-EU countries.
It has yet to spell out in detail how this will work – but it has announced that extra points will be awarded for coming to work in the NHS.
The cost of applying for a visa would also be reduced from £928 to £464 for medical professionals, and they would be guaranteed a decision within two weeks, under Tory plans.
Health Secretary Matt Hancock said: "From its inception the NHS has recruited globally. This new visa will make it easier for us to hire the finest doctors and nurses from other nations to come and work in the NHS – so that patients can receive the best possible care."
The Conservatives say they would launch the "NHS visa" scheme before the planned introduction of the points-based system in 2021.
They have already announced a fast-track visa route to attract specialists in science, engineering and technology.
The Conservatives have already said they will scrap the cap on the number of skilled workers, such as doctors, from the EU and elsewhere, after Brexit.
The party is also considering scrapping the minimum salary requirement of £30,000 for skilled migrants seeking five-year visas.
Analysis
by BBC Reality Check
We already knew that the government wanted to introduce a points-based system for EU citizens after Brexit. Non-EU citizens already have their visas accepted or denied based on a combination of points, and other factors like how much they earn and if they have a confirmed job.
The fact that, under these new plans, in-demand public service professionals like nurses will get more points for coming to work in the NHS is not entirely surprising. The new "NHS visa" will be for all foreign nationals, both EU and non-EU.
The NHS currently has a vacancy rate of 8.1% equating to about 100,000 staff.