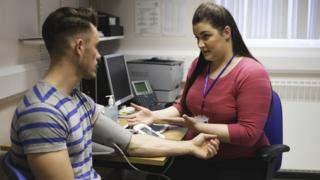 Image copyright Getty Images
The Conservatives say they will fund the training of 500 more GPs in England every year to increase appointments for patients, if they win the election.
They claim the plan would mean up to 3,000 more newly-qualified GPs, or doctors doing their GP training, in surgeries by 2024-25.
However, a previous Tory pledge to recruit an extra 5,000 GPs by 2020 is not close to being met.
Labour said it planned to invest in family doctor services and more GPs.
The party added it had become "harder and harder to get a GP appointment under the Tories".
The Conservatives say their plan would see the current tally of 3,538 GPs in training every year rise to around 4,000 from 2021-22.
Recruiting more GPs from overseas while improving efforts to retain current staff will lead to a total of 6,000 more doctors than there are now, they claim.
But it is not yet clear how this will be achieved.