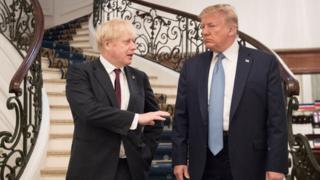 Image copyright Getty Images
Labour says leaked government documents show that the NHS would be at risk under a post-Brexit trade deal with the US.
However, Prime Minister Boris Johnson said the claim was "nonsense" and the NHS would not be part of formal talks.
The 451-page document, leaked from the Department for International Trade, contains a record of discussions that have taken place between UK and US officials over a possible future trade deal.
Here are five things we've learned from the document.
1. Drug pricing and patents
US trade negotiators had already set out that they wanted "full market access" for US drugs as part of a future UK/US trade deal after Brexit.
The leaked document does reiterate concern in the US over drug prices. One of the trade representatives is quoted as saying: "there is a lot of conversation on drug prices and looking at what other countries pay and this is causing angst".
A big part of the document, however, focuses on patents.
Pharmaceutical companies can obtain patents which grant exclusive rights to sell and market drugs for 20 years in their country of origin. While the patent exists, other companies cannot manufacture cheaper copies of the drug – often called generics – in the same country.
This applies in most countries around the world, but different countries have their own rules within that.
There are already a lot of similarities between the patent system in the US and the UK, including on the length of patents.
The leaked document compares the two systems in place for extending patents when they are delayed from entering the market.
The US negotiators also suggest some other technical changes to the UK's patent regime, which could affect the relationship with European patent regimes.
One of the main reasons for cheaper drug prices in the UK is the negotiating power of the NHS, as the near monopoly purchaser in the UK, whether the drugs are patented or generic.
Image copyright Getty Images Image caption Jeremy Corbyn presented the leaked documents at a Labour Party conference
2. Regulation
At the meeting on 10 July 2018, under the heading "key points to note", the document states: "The US are very concerned at the contents of the Chequers statement."
This refers to the first draft of Theresa May's proposed Brexit deal with the European Union (EU) earlier that month.
It proposed a "common rulebook" on goods with the EU.
The document reveals that the US trade representatives were left "deflated" at the UK's plan to stick close to EU rules on food safety and animal health.
They saw this as a "worst-case scenario"