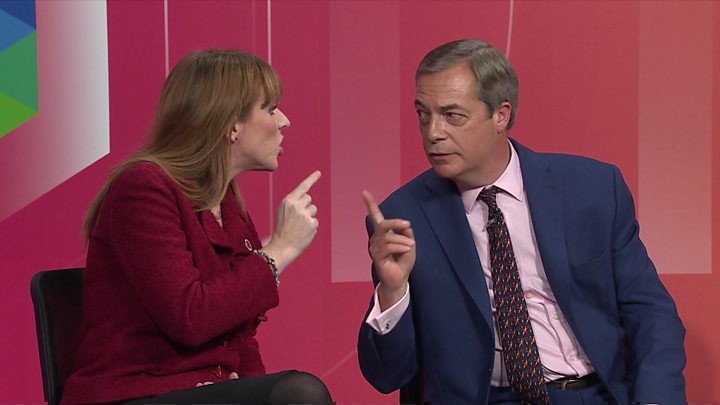 Media playback is unsupported on your device
Media captionArgument between Farage and Rayner on Question Time
Senior politicians faced questions on housing, climate change and trust from an audience of young people in a Question Time election special.
The election debate also saw exchanges over Brexit and the possibility of another referendum.
Labour's Angela Rayner clashed with Brexit Party leader Nigel Farage over what she said was a racist referendum poster, in one of the fieriest clashes.
The UK goes to the polls in a general election on Thursday.
Sitting on the panel were:
Conservative Housing Secretary Robert Jenrick
Labour's shadow education secretary Angela Rayner
Liberal Democrat leader Jo Swinson
SNP Justice Secretary in the Scottish government Humza Yousaf
Plaid Cymru leader Adam Price
Green Party co-leader Jonathan Bartley
Brexit Party leader Nigel Farage
A lively and bad tempered debate
Analysis by political correspondent Sean Curran
This special edition of Question Time certainly didn't lack passion or drama. At times it was lively and bad tempered, with the politicians talking over one another as they tried to win over younger voters.
We heard the now familiar arguments about Brexit which have been at the heart of this election campaign, but the politicians were also challenged over other issues such as changing the voting system which haven't made the headlines.
This wasn't a debate that saw seven party leaders go head-to-head, although four did take part, and as such was unlikely to deliver a knockout blow or even produce a clear winner.
And it probably won't have converted anyone who was already determined to vote for a particular party.
The young voters in the audience will deliver their verdict, along with the rest of the country on Thursday.
But the gap between the current generation of political leaders and the under 30s was most vividly illustrated by the question about home ownership and underlined the challenge facing whoever is in power on Friday morning.
Image caption All the panellists raised their hands when asked if they owned their own homes
On the subject of housing, the panel were asked what age they were when they brought their own home.
Mr Farage was the youngest, buying a property at 22, and Mr Price was the oldest at 30.
Mr Farage linked housing problems to population growth which prompted Mr Yousaf to accuse the Brexit Party leader of blaming "everything on immigrants".