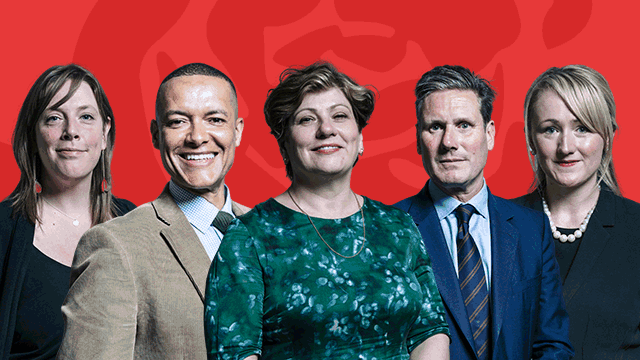 Jeremy Corbyn has said that he won't lead Labour into the next election, after the party suffered its worst defeat since 1935.
Current shadow chancellor John McDonnell has ruled himself out of the contest, and says he wants the party to pick a female leader.
So far there are more women than men included in the possible runners and riders in the race.
Here are some of the potential hopefuls, with analysis from BBC Reality Check.
Who will run for Labour leadership?
The 40-year-old MP for Wigan has said she is "seriously considering" standing for the leadership. One of a clutch of shadow ministers who resigned from Jeremy Corbyn's frontbench after the Brexit referendum, she has been urging her party to concentrate on winning support in smaller towns.
The 57-year old shadow Brexit secretary has also said he is "seriously considering" running. He is likely to be seen as the centrist candidate in the race. A passionate Remainer, he was director of public prosecutions before entering Parliament.
The 40-year old shadow business secretary is another MP to announce she is considering going for the top job. One of a new generation of MPs on the left of the party who is close to Mr Corbyn's inner circle, she represented Labour in a TV debate during the election.
The 38-year old Birmingham Yardley MP has been one of the most outspoken critics of Jeremy Corbyn's leadership and the party's record on tackling anti-Semitism, bullying and harassment.
The 59-year old shadow foreign secretary was the first to declare she is running to succeed Mr Corbyn. She deputised for him at Prime Minister's Questions, but was replaced after publicly calling for Labour to back another EU referendum.
The 50-year old, a former cabinet minister under Gordon Brown's premiership, said last month that she would "decide over Christmas" whether to stand, and has made no statement since then. She was an unsuccessful challenger to Jeremy Corbyn during the 2015 leadership contest.
The 48-year-old shadow Treasury minister resigned from the party's frontbench last year in order to oppose the bill triggering the Brexit process. An early supporter of Jeremy Corbyn, he rejoined in January last year.
What about the deputy leader?
The post was vacated at the election when former Labour MP Tom Watson said he was stepping down, both from the role and as a member of Parliament.
This means it will also be up for grabs in the upcoming contest.
Shadow justice secretary Richard Burgon announced on Twitter he would be running for the deputy leader post "after a break and discussions with MPs and party members".
He previously said he had "made no secret"