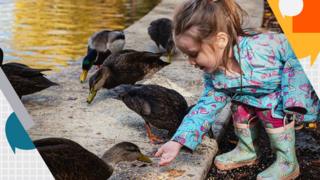 Image copyright Getty Images
With concerns about the environment a major theme in the election, what are the parties' plans on green issues?
Here, we answer a selection of readers' questions.
What is being done to stop the decline in UK wildlife? – Jet Janman, Seaford
More than a quarter of UK mammals – including the Scottish wildcat, the frosted green moth and the pine marten – are facing extinction, according to a report published in October 2019. It added that 97% of the UK's wildflower meadows have been lost in the last 100 years.
In its environmental manifesto, Labour details how it will spend nearly £10bn over the next 10 years on restoring nature and protecting the environment. It also wants to create 10 new national parks.
The Liberal Democrats will introduce a Nature Act to restore the natural environment. This will set targets for improving water, air, soil, and wildlife and its habitat. This will cost at least £18bn over five years.
The Green Party has a raft of policies on wildlife. Among these are a new law to prevent crimes against the natural environment. The Greens would also introduce an environmental protection commission to enforce the protection of wildlife and habitat.
The Tory manifesto does not mention UK wildlife specifically, although it does pledge to work with other countries on issues such as deforestation, wildlife protection and the oceans.
What will be done about single-use plastics? – Christine, High Wycombe full name
The BBC's Blue Planet II series sparked a debate about single-use plastics, and it's also featured in this election campaign.
The Liberal Democrats and the Green Party would clamp down on single-use plastics, banning them outright.
The Greens would ban their production and extend the plastic bag tax to cover plastic bottles and other single-use plastics as well.
Image copyright Getty Images
Parties have also made promises on plastic waste. The Conservatives want to set up a £500m "Blue Planet" fund dedicated to tackling pollution in the oceans. Labour has promised to invest in the recyling and reusing of plastics. The government is set to introduce new rules on single-use plastic next year. Bars and restaurants will not be allowed to display plastic straws or automatically hand them out, and plastic stirrers will be subject to a total ban.
Several parties want to ban the export of plastic waste, including the Conservatives, the Liberal Democrats and the Brexit Party.
Plaid Cymru has committed to making Wales a single-use plastic-free nation by 2030.
How could UK industry be affected by promises to tackle climate change? – Ron Barton, Guildford
Some of the largest contributors to the UK's emissions of greenhouse gases –