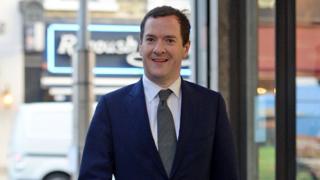 Image copyright PA Image caption Former chancellor and Remain campaigner George Osborne now edits the Evening Standard newspaper
The Conservative Party is heading towards a "prolonged period" in opposition unless it adapts to modern Britain, George Osborne has said.
The former chancellor, who was sacked by Theresa May in 2016, said the party needed to become more socially-liberal and pro-business to survive in power.
The ex-frontbencher, who now edits the Evening Standard newspaper, campaigned for Remain in the EU referendum.
He added he believes a general election could be likely in 2019.
Mr Osborne was interviewed by David Dimbleby, who is guest-editing BBC Radio 4's Today programme on Saturday.
He was former prime minister's David Cameron's closest ally in government and served as his chancellor for the whole six years Mr Cameron was prime minister – from 2010 to 2016.
Image copyright Getty Images Image caption George Osborne and ex-PM David Cameron, who called the EU referendum, were close political allies and remain friends
In the interview, which is due to be broadcast later, Mr Osborne said that if he was still a member of government he would "essentially try and steer the country away from the rocks to which it is heading".
Mr Osborne added he would also attempt to move the party "away from a prolonged period of opposition, which is where I think it's heading, unless it engages with modern Britain and adopts the essentially socially-liberal, pro-business, internationalist approach which I think is the right one for the country".
The Remainer also told Mr Dimbleby the calls for a no-deal Brexit were "reckless" and he believes another referendum or general election is possible next year.
"In my view, a general election is at the moment an under-reported likelihood for 2019 because in the British system the simplest way to resolve political impasses is to return to the public at a general election," he said.
"There is a way of course for the government to avoid that and they are terrified of an election – they can themselves embrace a referendum.
"And that is clearly under discussion in Downing Street even though it's denied."
He said that if there was another referendum, he would urge people to vote to reverse the Brexit decision.
"It's not that you say to people, look, two years ago you made the wrong decision, you were stupid.
"It's that in the two years since we've learnt a lot more about what's involved in leaving the European Union, we've learnt a great deal more about what's on offer outside the European Union."