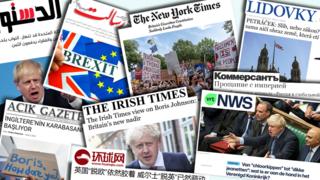 Newspapers around the globe strive every day to explain Brexit news to their readers. But what is the broader perception of the United Kingdom in the global media?
"Britain has never had a proper, written constitution, a matter of some pride to Britons," writes Benjamin Mueller in the New York Times.
"While Americans haggle over their rules, British politics runs on an evolving array of laws and practices, refereed by the so-called good chaps in government, with their impeccable sense of fair play. But popular faith in that approach was severely shaken this past week," he says, when Prime Minister Boris Johnson suspended Parliament.
"And that first shock was followed by a second, perhaps even more startling realisation: once someone starts kicking aside the conventions and customs that shape British democracy, there are surprisingly few hard and fast checks on executive authority."
For Canada's Globe and Mail, "British politics today is what results from the collision of an unstoppable force, an immovable object and a clown car."
It says the unstoppable force is the dominant no-deal faction of the Conservative Party. "The immovable object is reality – the reality that a no-deal Brexit will play havoc with the economy and hurt real people; the reality that a majority of parliament and the people will not back it… And the clown car is Mr Johnson."
Mexico's Excelsior carries an opinion column headlined "It is the time of the common people". Columnist Max Cortazar says the situation has reached the point where it is no longer viable to assume the current leadership in the United Kingdom will defend democratic values.
'Like the collapse of the British empire'
In Turkey, the pro-government Sabah newspaper sees a marked and dangerous decline in Britain's international reputation.
"With the Brexit process, Great Britain has started to project an image of an 'unsuccessful state' in every respect," Bercan Tutar writes. "The Brexit process will inevitably turn into Great Britain's demise."
Al-Dostour, a mainstream newspaper in Egypt, sees the United Kingdom on the brink of collapse, warning the outcome of Brexit may be the "largest political defeat in the history of the kingdom since the collapse of the British Empire".
Iranian hardline paper Resalat says the authorities are scheming to "overturn" the result of the 2016 vote, and a second referendum would "raise serious questions about democracy in Britain and Europe".
Image copyright Getty Images Image caption Russian paper asks: "Has Monty Python taken over Westminster?"