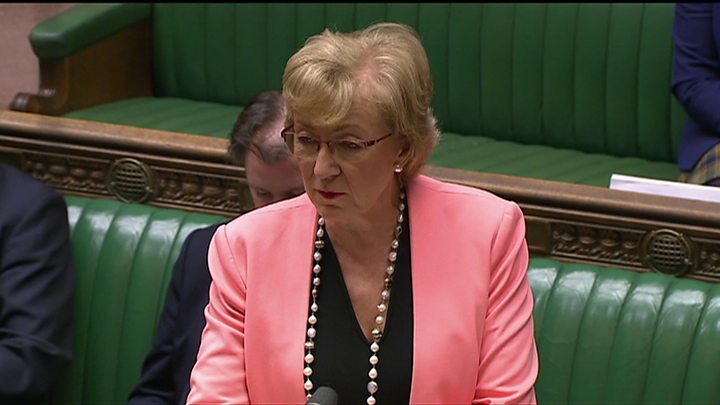 Media playback is unsupported on your device
Media captionMPs cheer Easter break for the House of Commons
There was a collective sigh of relief around Westminster when MPs were told last week that their Easter recess would be going ahead.
But others have criticised politicians for taking a break while Brexit remains up in the air – especially after a direct warning from the EU not to waste time during the latest extension.
So, how much time do politicians spend at work? And do they get too much or too little time off?
Here are the facts so you can make up your own mind.
When do MPs sit in the Commons?
Parliamentary sessions begin in either May or June.
They are marked by the State Opening of Parliament – when the Queen comes to Westminster and gives a speech, outlining the government's plans for the year.
A session normally lasts for 12 months, but sometimes the government decides to extend it.
This happened with the 2017 session, which was extended to two years because of the looming Brexit battles.
There are a number of "recesses" during a session too, similar to the timetable of school and bank holidays.
But they are not set in stone, and it is up to the Leader of the House – currently Andrea Leadsom – to lay down the dates in the Commons.
Image copyright PA Image caption The Queen and Prince Charles at the last State Opening of Parliament
On an average week, MPs tend to sit for four days:
Monday: From 14:30 up until 22:30
Tuesday: From 11:30 up until 19:30
Wednesday: From 11:30 up until 19:30
Thursday: From 09:30 up until 17:30
MPs don't have to be there for these hours.
When less important business is going on in the Commons, MPs are able to do other things, such as travel abroad on fact-finding trips or even carry out other jobs – like Labour MP Karen Lee who works as a nurse, or Conservative MP Dan Poulter who does shifts as a doctor – or they can do nothing.
But if important votes are expected, MPs will be put on a "three-line whip" by their party leadership, meaning they have to be in the vicinity.
This has been the norm during the recent Brexit storm, with MPs reporting blanket three-line whips when there would usually be more flexibility.
The late start time on Monday allows MPs who represent constituencies further away from Westminster to travel. The member with the longest commute is Lib Dem MP for Orkney and Shetland Alistair Carmichael, who has a 713 mile journey to work.