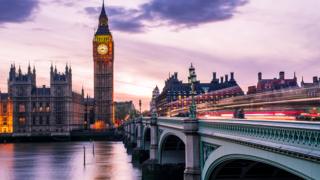 Image copyright Getty Images
It's fair to say that Theresa May has not had the smoothest ride as prime minister.
Her job is to run the country, but really for her, it all comes down to Brexit.
That was meant to be 29 March. But the UK is still in the EU and there's still no way out which everyone can agree on.
Meanwhile, she has been repeatedly defeated in the House of Commons and has lost 20 ministers over her handling of Brexit.
Things were very different a couple of years ago.
Minority government is tough
Theresa May was riding so high in 2017 that she decided to call a general election.
The idea was to boost her position even further so she could get on with a nice smooth Brexit.
Her gamble backfired.
She ended up with 317 MPs – not enough for a majority in Parliament.
She managed to scrape together the numbers she needed by teaming up with a party in Northern Ireland called the DUP.
But they're not exactly BFFs.
They have voted against her Brexit deal and called her negotiations "lamentable".
To add insult to injury, four of her MPs have left the Conservative Party.
Image caption The PM facing the flak in Parliament
Biggest loser?
This means it's even harder for her to win votes.
She is losing often and losing big – and always on her core policy, Brexit.
So far this year, she has had the 1st, 2nd and 5th largest defeats in recent times.
Her government has lost in the House of Commons 23 times since December 2017.
For context, Margaret Thatcher lost four votes in her 11 years as PM.
Tony Blair had four defeats, Gordon Brown had three and David Cameron's coalition government saw six losses.
They did have solid majorities though, so it was easier for them to win.
You have to go back to the 70s to find other governments which have had more defeats.
Prime Minister Harold Wilson lost 25 times in the Commons between 1974 and 1976.
The biggest loser crown goes to Jim Callaghan though, with 34 defeats in 3 years from 1976.
Skip Twitter post by @BBCNewsbeat
Where better for our politics editor @gyme7 to bring you Newsbeat's Brexit news today than on a carousel going round and round and round and round and round and round and… you get the point pic.twitter.com/XxwxhxpzZC
— BBC Newsbeat (@BBCNewsbeat) April 2, 2019
End of Twitter post by @BBCNewsbeat
Ministerial merry-go-round
It's normal to have some ministers coming and going over time.