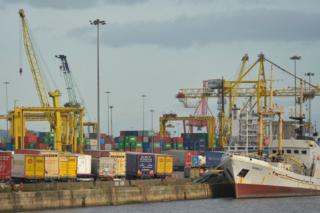 Image copyright Getty Images
Standing on top of the roof of the Dublin Port Company's headquarters, you can see lots of building work amidst all the docked ships at the River Liffey's mouth.
And while that construction is not entirely Brexit-related, management at the port says it has to be prepared for the possibility of a no-deal and any potential economic fallout.
The UK is scheduled to leave the EU on 29 March, whether or not there is a negotiated deal.
British Prime Minister Theresa May is hoping that her draft Withdrawal Agreement will get through the House of Commons, but preparations are under way in case it does not.
There is agreement across Irish society that Brexit will have an adverse effect on the country, but the worst scenario as far as the Irish government is concerned is that the UK leaves without a negotiated settlement.
Politicians here refer to that option as a "hard" Brexit.
The International Monetary Fund forecasts that Ireland's economic growth would take a 4% hit "in the long run" if there is a "cliff-edge" break with the EU, because of the highly integrated nature of the Irish and UK economies.
And the independent Dublin-based think tank The Economic and Social Research Institute estimates that a "hard" Brexit could cost households up to €1,400 (£1,260) a year, because of a potential increase in food prices and possible trade tariffs.
Image copyright Government of Ireland Image caption The Irish government set out its approach to dealing with a no-deal Brexit in December
Despite no-one in authority being in a position to predict how Brexit will unfold, the Irish government has already announced plans for an extra 1,000 customs and veterinary staff to work at Dublin and Rosslare ports and at airports, as well as new money to train people in sectors likely to be badly affected.
It has organised a series of very well-attended roadshows around the country with the involvement of state agencies with the theme "Getting Ireland Brexit Ready" for every Brexit scenario.
And there is evidence that more companies – worried about possible delays and resulting costs at Dover – are forsaking the UK land-bridge for new "Brexit-busting" super-ferries that would sail directly between Dublin and Zeebrugge and Rotterdam, bypassing uncertainty in Britain.
It is too early to say what impact they are having, but the development is seen as significant.
There is an Irish political and economic consensus on Brexit.