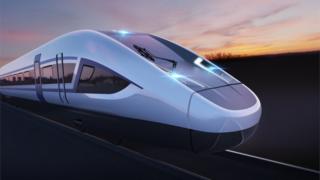 Image copyright Siemens/ PA Image caption A proposed design for an HS2 train
No-one took full account of how complex and risky the HS2 high-speed rail project was likely to be, the government spending watchdog has said.
The Department for Transport (DfT) and HS2 Ltd did not allow for all uncertainties when estimating initial costs, the National Audit Office (NAO) said.
In 2015, HS2 was due to cost £56bn.
Earlier this week, however, a leaked government-commissioned review suggested the total could reach £106bn.
The findings of the independent review, conducted by former HS2 Ltd chair Doug Oakervee, have not yet been officially published.
The government will use the report to inform its final decision on whether to give the go-ahead to the HS2 project, and has said a final decision on whether to continue with it will be made in February.
In its progress update, the NAO said that the DfT and HS2 Ltd "have not adequately managed risks to taxpayer money".
This led to the project being over budget and behind schedule, it added.
"Significant challenges to completing the programme and delivering value for taxpayers and shareholders remain," the NAO report said.
Lessons to learn
The first phase of the project, between London and Birmingham, is due to open at the end of 2026, with the second phase to Leeds and Manchester expected to be completed by 2032-33.
Despite concerns about the rail link, Europe's largest infrastructure project, work is not on hold and the project currently gets through about £250m a month.
Gareth Davies, the head of the NAO, said: "There are important lessons to be learned from HS2, not only for the Department for Transport and HS2 Ltd, but for other major infrastructure programmes.
"To ensure public trust, the Department and HS2 Ltd must be transparent and provide realistic assessments of costs and completion dates as the programme develops, recognising the many risks to the successful delivery of the railway that remain."
A DfT spokesperson said: "The department has supported this review and is already acting on many of its recommendations. To ensure transparency around the project, we have worked closely with the NAO to provide information on the latest cost and schedule estimates for HS2.
"We recognise that there have been significant underestimations of both the cost and schedule of HS2 in the past, which is why we commissioned the Oakervee review to provide advice on whether and how to proceed with HS2."
Employers' organisation the CBI said that whatever the misgivings, the project should go ahead.
Matthew Fell, the CBI's chief UK policy director, said: "HS2 is an ambitious project and the National Audit Office's report usefully highlights the challenges of delivering large-scale infrastructure.