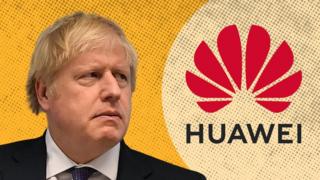 The UK has decided to let Huawei continue to be used in its 5G networks but with restrictions, despite pressure from the US to block the firm.
The Chinese firm will be banned from supplying kit to "sensitive parts" of the network, known as the core.
In addition, it will only be allowed to account for 35% of the kit in a network's periphery, which includes radio masts.
And it will be excluded from areas near military bases and nuclear sites.
"Huawei is reassured by the UK government's confirmation that we can continue working with our customers to keep the 5G rollout on track," the firm's UK chief Victor Zhang said in a statement.
"It gives the UK access to world-leading technology and ensures a competitive market."
A document published by the National Cyber Security Centre indicates that the UK's networks would have three years to comply with the caps on the use of Huawei's equipment.
The Prime Minister had faced pressure from the US and some Conservative MPs to block the Chinese tech giant on the grounds of national security.
A Trump administration official has said the US "is disappointed" with the decision.
Beijing had warned the UK there could be "substantial" repercussions to other trade and investment plans had the company been banned outright.
The choice has been described as the biggest test of Boris Johnson's post-Brexit strategy to date.
Newt Gingrich, a Republican and former Speaker of the US House of Representatives, described it as a "strategic defeat" for his country.
Skip Twitter post by @newtgingrich
British decision to accept Huawei for 5G is a major defeat for the United Statees. How big does Huawei have to get and how many countries have to sign with Huawei for the US government to realize we are losing the internet to China? This is becoming an enormous strategic defeat.
— Newt Gingrich (@newtgingrich) January 28, 2020
End of Twitter post by @newtgingrich
Huawei has always denied that it would help the Chinese government attack one of its clients. The firm's founder has said he would "shut the company down" rather than aid "any spying activities".
Conservative MP Tom Tugendhat, former chair of the Foreign Affairs Select Committee, tweeted that the government's "statement leaves many concerns and does not close the UK's networks to a frequently malign international actor".
New 5G suppliers
Three out of four of the UK's mobile networks had already decided to use and deploy Huawei's 5G products outside the core in the "periphery".