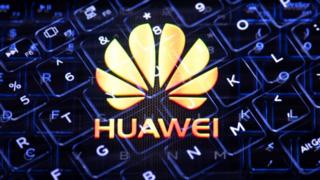 Image copyright PA Media
The government has received a report into Huawei that is likely to change its policy over the Chinese firm's role in the UK's telecoms networks.
Digital Secretary Oliver Dowden said GCHQ's National Cyber Security Centre had delivered its findings.
NCSC is believed to have said it can no longer assure the security of Huawei's products because of new US sanctions.
"We're now examining it and understanding the implications of it," Mr Dowden told BBC Radio 4's Today.
The Department for Digital, Culture, Media and Sport has yet to deliver its conclusions to the prime minister, but Boris Johnson said on Monday afternoon that he did not want the country to be "vulnerable to a high-risk state vendor".
Huawei has said it remains "open to discussions".
But one of the company's spokesmen took a tougher line over the weekend, following newspaper reports that the government might ban the purchase of new Huawei 5G equipment by the end of the year.
"UK policy is being dictated by [the] Trump administration… shouldn't the US respect a United Kingdom in the post-Brexit era being in a position to chose its own telecommunication strategy?" tweeted Paul Harrison, Huawei's head of international media, UK.
China's ambassador to the UK has warned that if the country got rid of Huawei, it would send out a wider message about its openness to foreign investment.
High-risk vendor
Huawei's role in the UK seemed to have been settled in January, when the government placed a cap on its market share in mobile and full-fibre fixed-line broadband networks, and excluded its involvement in the most sensitive parts of 5G known as the "core"'.
However, the US subsequently announced fresh sanctions that forbid the Chinese firm and the third parties that make its chips from using "US technology and software to design and manufacture" its products.
Washington claims Huawei is backed by the Chinese military and poses a national security risk, claims the company denies.
NCSC has examined the impact of the sanctions, including the fact that they effectively prevent the company from being able to use critical software to design and simulate chips before their fabrication, as well as stopping third-party manufacturers from being able to use equipment needed to produce some of Huawei's most advanced processors.
The risk is that as a consequence Huawei would have to start sourcing chips from elsewhere, which UK security officials might not be able to properly vet.