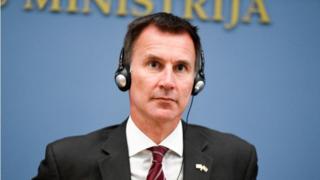 Image copyright AFP Image caption The foreign secretary has been visiting Denmark, Latvia and Finland
Jeremy Hunt has clarified his comments about a no-deal Brexit, saying Britain "would survive and prosper" – but it would be a "big mistake for Europe".
On Thursday he told ITV News a "messy" no-deal Brexit "would be a mistake we would regret for generations".
But he later tweeted that his words "should not be misrepresented" and the UK would only "sign up to a deal that respects the referendum result".
Tory MP Nigel Evans said: "We don't need any lectures from Remainers."
The backbencher, who campaigned for Brexit, told the BBC: "He's got his own views. He voted remain. The prime minister needs to ensure, as she promised, that Brexiteers are in charge of our leaving the European Union."
It comes as Brexit talks resumed in Brussels between UK and EU officials.
There has been growing speculation about the possibility of the UK leaving the European Union without a deal in March 2019.
Bank of England governor Mark Carney said this month the possibility of the UK and EU failing to reach agreement on the terms of departure was "uncomfortably high".
He was criticised as "the high priest of Project Fear" by Tory MP Jacob Rees-Mogg, who leads the Tory pro-Brexit European Research Group.
International Trade Secretary Liam Fox, a leading Brexiteer, has put the chance of failing to come to an agreement at "60-40", blaming the "intransigence" of the European Commission.
Mr Hunt told ITV on Thursday that he believed the government's Chequers plan was the "framework on which I believe the ultimate deal will be based".
But he said, although the UK must be "prepared for all outcomes", if the UK were to leave without a negotiated deal: "It would be a mistake we would regret for generations, if we were to see a fissure, if we had a messy, ugly divorce.
"Inevitably that would change British attitudes towards Europe."
He also said it was his job as foreign secretary to tell other governments that "the implications of not getting a deal are profound in terms of our friendship and co-operation with foreign countries across a whole range of areas".
On the subject of whether the UK would consider EU proposals that the UK should accept EU environmental and social legislation, in order to facilitate a free trade deal he said: "I think we have to see what their proposal was,