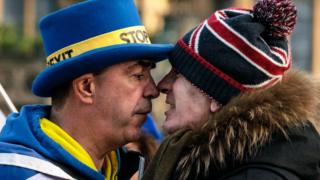 Image copyright Getty Images Image caption Try to find the common ground in arguments about Brexit, experts say
"We don't see family now," says one woman in her 50s, who lives in Norfolk. "We didn't see them that often and now I have no desire to see them ever again."
The woman, a Remain supporter who is French but married to a Briton, wants to remain anonymous. She tells how she has felt "unable to talk" to some friends and family members, after hearing their views on Brexit.
She hasn't spoken to some friends – despite having known them for decades. "I know if I speak to them I would go into such an argument. It makes me very, very sad."
And of family, she says: "I think my husband is trying to keep me away from my in-laws as much as possible so I don't have a row with them. He hates confrontation.
"I don't thrive on it, but if I need to make a point I will make a point."
On the other side of the debate, one 59-year-old Leave voter from north London says most of his discussions with "remainers" are "reasonable", although there are "complete nutters", often on social media, who "can't cope with the fact people voted to leave".
"I have got the ammunition I need, and they know I know what I'm talking about," he says.
But he says his girlfriend – who is from Czech Republic and would have voted to remain – was "a bit cross" about his vote.
"She said I voted for her to go back," he says. "But we are still boyfriend and girlfriend now. We don't discuss it."
For more than three years, Brexit has been sparking disagreements among families and friends.
Even Boris Johnson's family avoid the topic of Brexit, said his sister Rachel last week, as the siblings' brother, Jo, quit as a minister and Tory MP.
But how should you deal with arguments over Brexit – and when should you give up? Experts explain the art of arguing.
Listen and don't interrupt
The most common mistakes people make during arguments are the most obvious – not listening and interrupting each other, says the author of book How to Argue, Oxford University law professor Jonathan Herring.
"When you interrupt someone you are essentially saying you don't want to hear what they are saying and that creates a bad atmosphere."
Image copyright Getty Images Image caption Paraphrasing what the other person says and repeating it back can be useful
He adds: "You have to understand where the other person is coming from. Good listeners will try to build consensus. There will be issues on which you agree.