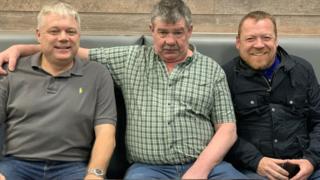 Image caption Crewe has changed a lot in recent years, say Ian Smyth, Mick Cartwright and Neil Jones
Crewe and Nantwich is one of the UK's most marginal constituencies, with Labour taking the seat from the Conservatives in 2017 by just 48 votes. With days to go until another general election, what issues are firing up voters?
There was a time when you couldn't move for bikes outside the town's famous Crewe Works. Row upon row of them were parked up on the pavement, their owners among the thousands of workers inside West Street's huge warehouses, building locomotives for the UK's railways.
As employees prepared to down tools at the end of the day, staff at the town's many pubs along what was known as the "Golden Mile" were pulling pints, lining them up along the bar ready for the teatime rush.
At Nantwich Road Working Men's Club – itself built to serve the town's railway workers – regulars are reminiscing about the good old days.
At its height, Crewe Works employed 20,000 people. Today, transport manufacturer Bombardier employs about 320 on the same site. Its future prospects could be boosted if it secures a contract to service rolling stock for High Speed 2 (HS2). "If it happens," says a weary Mick Cartwright, a Stoke-on-Trent native who's lived in Crewe for more than 20 years.
Image copyright Bombardier Image caption Workers at Bombardier are maintaining Crewe's links with the UK's railway network
Last year, Crewe celebrated 175 years of railway engineering. But the demise of the industry the town was literally built for is a harsh reality its people have had to come to terms with, along with the changing landscape.
"It's lost its heritage. All the old buildings have gone. They've knocked a lot of the wrong buildings down as well," says Neil Jones, who runs a double glazing firm.
It's darts night, and the lads from Cheese Hall, a Victorian pub in the heart of Crewe, have arrived at Nantwich Road for the competition.
As the rivals line up at the oche, yards away from an enthusiastic dominos match, one of the touchiest subjects in town is being discussed: the demolition of what remains of the famous Crewe Works wall.
The redbrick structure marked the boundary of the once sprawling engineering site. It is said that during World War Two, black outlines of houses were painted on it to fool German bombers into thinking it was an estate, rather than a factory helping the war effort.
Today it is all but gone, the site behind it crumbling rubble.
Image caption The wall stood along West Street for generations, but most of it has been demolished
"The council gave permission to knock it down to build houses,"