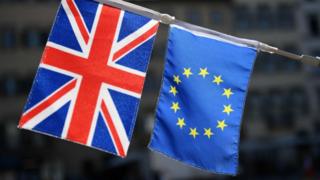 Image copyright Getty Images
Brexit Secretary Dominic Raab has set out what he called "practical and proportionate" advice in case the UK leaves the EU with "no deal".
Ministers say a deal is the most likely outcome but the government has published 25 documents of guidance for people and businesses across a variety of areas to try to avoid the "short-term disruption" which it admits is possible if the two sides cannot reach a deal.
BBC correspondents have unpicked some of the key details of the newly-published papers.
Economy: Kamal Ahmed, economics editor
The details on "no deal" published by the government are sobering. Just take one – trade across the border between the UK and the EU post-Brexit if there is no agreement.
If there is no deal and Britain reverts to "third country" status, the government has provided a long list of preparations that firms which export and import to and from the EU will be required to undertake.
Image copyright Getty Images
Customs declarations would be needed, tariffs (import and export taxes) "may also become due" and the government also says firms are likely to need to invest in new computer systems to track goods.
"If the UK left the EU on 29 March 2019 without a deal, there would be immediate changes to the procedures that apply to businesses trading with the EU. It would mean that the free circulation of goods between the UK and EU would cease," the government says.
That is the crux of the problem. Leaving the single market and the customs union without a deal means significantly higher barriers to trade with the EU.
And higher costs for firms that are engaged in that trade.
Some of the overall costs to the economy might be mitigated over the medium term by increased trading opportunities with nations outside the EU.
And the government has signalled that in some areas – such as the need for upfront payments of VAT on imports – it is doing its best to smooth the impact on cash flow by allowing for delayed payment systems.
That has been welcomed by business groups. But what is key from the documents published on Thursday is pretty straightforward.
The costs of "no deal" are likely to be substantial. And consumers and businesses would be the ones paying the bill.
Money: Kevin Peachey, personal finance reporter
Not so long ago,