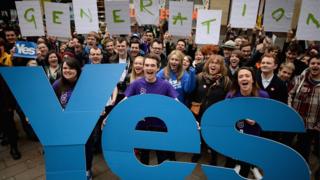 Image copyright Getty Images Image caption How much time has to elapse before there's a new Yes generation?
Boris Johnson has rejected Nicola Sturgeon's call for a new independence referendum by insisting the 2014 vote was a "once in a generation" event. Why do people keep using this phrase, and what does it mean?
Why is this coming up now?
The debate about a second independence referendum has echoed much of the debate about the first one, because both sides see it as setting a useful precedent.
First Minister Nicola Sturgeon wants the UK government to agree a transfer of powers to hold a vote, because that was the "gold standard" process used in 2014.
Boris Johnson doesn't want another referendum, and is using some of Ms Sturgeon's own words from the original campaign as justification for saying no.
The prime minister's letter rejecting Ms Sturgeon's request told her "you and your predecessor made a personal promise that the 2014 independence referendum was a 'once in a generation' vote. The people of Scotland voted decisively on that promise to keep our United Kingdom together."
He has echoed this line whenever questioned about the matter, but the SNP insists times have changed and the party has an "unarguable" mandate for a new referendum.
Who said what?
In Alex Salmond's foreword to Scotland's Future, the white paper on independence ahead of the 2014 referendum, the then first minister said the vote would be a "rare and precious moment in the history of Scotland – a once in a generation opportunity to chart a better way".
The document itself went on to state there was "no arrangement in place for another referendum on independence", and that "only a majority vote for Yes would give certainty that Scotland will be independent".
Mr Salmond and his team used the phrase several times in interviews, including one with Andrew Marr where he said that "in my view this is a once in a generation, perhaps even a once in a lifetime opportunity".
His deputy Ms Sturgeon, used that "lifetime" phrase during the final Holyrood debate before the referendum – as did three other SNP MSPs, before passing a motion which also called the ballot the "opportunity of a lifetime".
Media playback is unsupported on your device
Media captionAlex Salmond says the Scottish referendum is a "once in a generation opportunity"
Independence supporters contend Mr Salmond was stating his own view – he told Mr Marr that "it is just my opinion" – and that the position of his government cannot bind that of its successors.