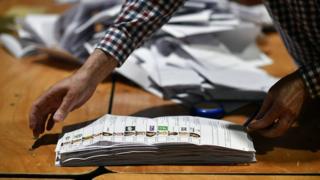 Image copyright Getty Images Image caption There are still a number of counts to go before the final shape of the 33rd Dáil Éireann (Irish parliament) is clear
More than half of the seats at stake in the Irish general election have been filled, following what has been a historic result for Sinn Féin.
The outcome was described as "something of a revolution in the ballot box" by the party's leader Mary Lou McDonald.
With all first preferences counted, the left-wing republican party has taken 24.5% of the vote, compared to 22% for Fianna Fáil and 21% for Fine Gael.
No one party will win enough seats for an outright majority.
Almost 100 of the 160 seats have been declared, but negotiations to establish a government could be prolonged.
Before the election, both Fine Gael and Fianna Fáil had ruled out forging a coalition with left-wing republican party Sinn Féin, citing its tax policies and IRA past as deterrents.
On Sunday evening, taoiseach (Irish PM) and Fine Gael leader Leo Varadkar conceded it would be "challenging" to form a government.
Image caption From left: Micheál Martin (Fianna Fáil), Leo Varadkar (Fine Gael) and Mary Lou McDonald (Sinn Féin)
Fianna Fáil leader Micheál Martin did not rule out working with Sinn Féin, but said "significant incompatibilities" still existed.
Sinn Féin President Mary Lou McDonald said she was exploring options to see if it would be possible to form a government without either Fine Gael or Fianna Fáil.
Ms McDonald, who topped the poll in her four-seat Dublin Central constituency, said: "The frustration people have felt for a long time with the two-party system, whereby Fine Gael and Fianna Fáil handed the baton of power between each other – that's now over," she said.
"This vote for Sinn Féin is for Sinn Féin to be in government… for Sinn Féin to deliver," she told RTÉ's Morning Ireland programme on Monday,
"My first job of work, and I commenced this yesterday, is to establish with other parties whether or not there are the numbers to deliver a government without Fianna Fáil or Fine Gael."
Her party's vice-president, Michelle O'Neill, said Sinn Féin would have "asks in terms of the republican project", in line with its repeated calls for the next government to prepare for Irish unity.
Outgoing Irish finance minister and Fine Gael TD Paschal Donohoe said his party was likely to have "some form of engagement" with Sinn Féin, but said the two parties would not be going into government together.