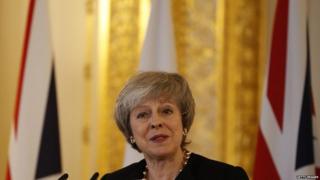 Image copyright Getty Images Image caption There is a growing feeling it may take more than one go to get the deal through Parliament
When Theresa May pulled the "meaningful vote" on Brexit last month, the day before MPs were about to pass their verdict on her deal, Downing Street hoped two things would happen.
First, that the EU would offer some form of legal guarantee that the Northern Irish backstop – the arrangements for avoiding a hard border on the island of Ireland – would be temporary.
This, in turn, would bring the DUP on board – and unlock further support from previously hostile Conservative backbenchers.
Second, that some sceptical MPs, once away from the febrile atmosphere at Westminster, would quietly reflect over Christmas that the deal wasn't as bad as all that, as it at least guarantees that the UK will leave the EU at the end of March.
So perhaps any rebellion would diminish, if not evaporate.
But neither hope has – yet – been realised, with the vote now less than two weeks away.
Deeper difficulties
So as things stand, the prime minister is once again facing defeat.
But her difficulties could run even deeper than assumed.
It was undoubtedly disappointing for Downing Street that the DUP's Westminster leader Nigel Dodds declared that the Withdrawal Agreement "flies in the face" of the government's commitments on Northern Ireland following his meetings with Theresa May and the Conservative chief whip Julian Smith this week.
The government quite simply couldn't tell him that that the EU, at this stage, was willing to go any further than offering "reassurances" and "clarifications" on the temporary nature of the backstop, rather than legal guarantees.
But even if the EU does move significantly in the next ten days, the prime minister could still be facing defeat.
Backstop by other means?
What the DUP's Brexit spokesman Sammy Wilson said on BBC Radio 4's Today programme on Friday was significant.
He said he was "alarmed" that the Northern Irish backstop could become the "settled arrangement" on Brexit.
Let's unpick this for a moment – because it goes to the core of Theresa May's difficulties.
The DUP want to make sure the backstop is temporary and that the UK, including Northern Ireland, can exit from it without EU approval.
Image copyright Reuters Image caption The European Commission has said the deal can't be re-negotiated but the talking continues
If the EU can guarantee this, it's possible the DUP's MPs may grit their teeth and back –