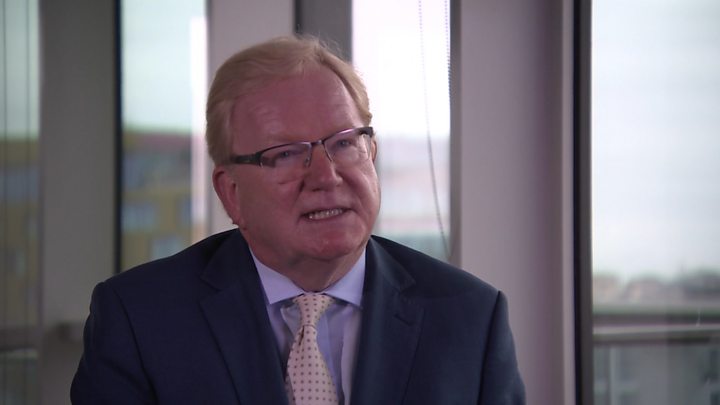 Media playback is unsupported on your device
Media captionJackson Carlaw: "A fresh face is the right person to lead us into that [May 2021] election."
Jackson Carlaw has resigned as the leader of the Scottish Conservatives after only six months in the job.
Mr Carlaw said he had come to the "painful conclusion" that he was not the best person to lead the case for Scotland remaining in the UK ahead of next year's Holyrood election.
He said he had therefore decided to stand down with immediate effect.
Mr Carlaw succeeded Ruth Davidson as the party's leader in February after previously acting as her deputy.
He had also served as acting leader while Ms Davidson was on maternity leave following the birth of her son, and again after her resignation in August of last year.
Prime Minister Boris Johnson said Mr Carlaw had been a "tremendous servant" to the party for more than four decades.
Mr Johnson added: "As an activist, deputy chairman, deputy leader and leader, he has given his all and deserves our thanks for his efforts.
"It is a mark of his commitment to the cause that he chooses to stand aside at this time and I offer my best wishes to him, Wynne and the family."
The BBC understands that former Scotland Office minister Douglas Ross – who quit his ministerial post earlier this year over Dominic Cumming's trip to Durham – is being urged to stand for the leadership.
A senior party source said: "Douglas is the stand out talent in the party".
It is also understood that some Scottish Conservatives have discussed the possibility that Ms Davidson – who is still an MSP – could stand in for Mr Ross at First Minister's Questions until the Scottish Parliament election in May, when Mr Ross would hope to win a seat.
Skip Twitter post by @nickeardleybbc
Wider context of course is polls suggesting rising support for Scottish independence. But privately some Scottish Tories weren't impressed with Carlaw's performance as leader.
— Nick Eardley (@nickeardleybbc) July 30, 2020
End of Twitter post by @nickeardleybbc
Mr Carlaw said he been "thinking hard" about his role as party leader over the summer months, and had come to the conclusion that a "younger and fresher voice" was needed.
He added: "Nothing is more important to me than making the case for Scotland's place in the United Kingdom," he said.
"I believe the Scottish Conservative and Unionist party is the most important voice in Scotland for setting out that positive argument.