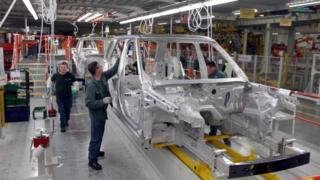 Image copyright PA Image caption Only cars already in production will be worked on this week, Unite says
Jaguar Land Rover (JLR) has shut down production for a week because of uncertainties around Brexit.
It affects thousands of staff at Castle Bromwich, Solihull and Wolverhampton in the West Midlands, and Halewood on Merseyside.
The shutdown is in addition to a scheduled closure for Easter.
JLR has confirmed the break is under way and calls it a "Brexit matter" – a move deemed "prudent" by the union Unite.
It was agreed in January when the UK was due to leave the EU on 29 March.
The shutdown – from Monday to Friday – has gone ahead amid continuing uncertainty over the UK's future, despite the projected leave date arriving with no outcome.
The Easter closure will get under way the following week.
JLR said it needed more certainty around Brexit, and warned that a "no-deal" Brexit would cost it more than £1.2bn in profit each year.
Mick Graham, Unite's convenor at Solihull, said: "We had to make some plans to protect the business as best we could and we started t