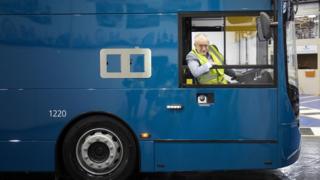 Image copyright PA Image caption Jeremy Corbyn launched his tour of Scotland at a bus manufacturers in Falkirk
Jeremy Corbyn has begun a four-day tour of Scotland, amid continuing accusations of anti-Semitism.
The Labour party leader is due to deliver a speech outlining a new vision for the Scottish economy.
But he is expected to face more questions about anti-Semitism following the suspension of former MP Jim Sheridan from the party.
Mr Sheridan is alleged to be responsible for posts about the Jewish community made on social media.
A post on Facebook spoke of the Renfrewshire councillor's loss of "respect and empathy" for the Jewish community amid the row about anti-Semitism.
It has since been removed.
The Labour Party has said it cannot comment on individual cases, but that complaints of anti-Semitism are all "fully investigated".
He is the second Scottish councillor to be suspended from the party over online comments made about the anti-Semitism row.
Earlier this year, Fife councillor Mary Lockhart suggested that headlines critical of Labour's position could be the work of the Israeli security services.
Image copyright Getty Images Image caption Mr Corbyn was joined at Alexander Dennis by Richard Leonard, the leader of Scottish Labour
The row centres on Labour's new code of conduct on anti-Semitism, which its critics say is not as comprehensive as the International Holocaust Remembrance Alliance's guidelines.
Scottish Labour leader Richard Leonard has said he wants Labour to have a "robust" code of conduct that commands the support of the Jewish community.
He is expected to share a platform with Mr Corbyn at the Alexander Dennis bus manufacturers in Falkirk later as part of a campaign to promote British industry.
Ephraim Borowski, of the Scottish Council of Jewish Communities, told BBC Radio Scotland he had held constructive discussions with Mr Leonard.
Interviewed on Good Morning Scotland, he rubbished suggestions that the row was part of a plot to oust Mr Corbyn from the head of the Labour party.
"There will be all kinds of people who have all kinds of different reasons for the attitude that they take to Jeremy Corbyn, or for that matter Theresa May or Boris Johnston, it doesn't make them plotters," he said.
"The fact that they have something that they object to, the fact that they may even agree with other people about what it is that they object to, doesn't make them part of any kind of conspiracy."
Image copyright Labour Party Image caption Former MP Jim Sheridan has been suspended from the Labour party
He added: "The idea that because somebody is critical of Jeremy Corbyn,