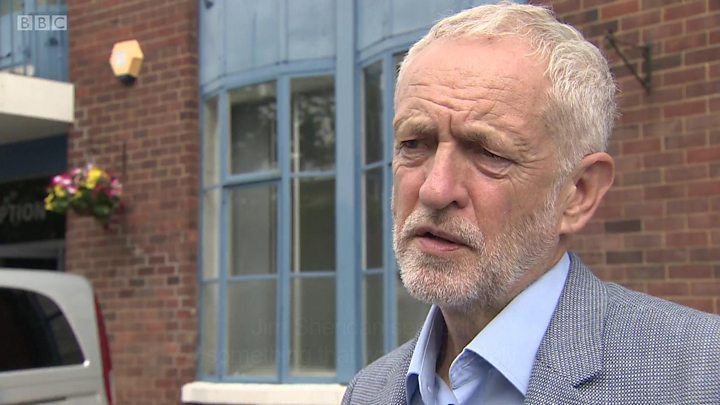 Media playback is unsupported on your device
Media captionJeremy Corbyn condemns former Labour MP Jim Sheridan's comments in anti-Semitism row
Jeremy Corbyn has condemned comments about the Jewish community allegedly made by a former Scottish Labour MP.
The Labour leader was responding to renewed questions about anti-Semitism in the party as he began a four-day tour of Scotland.
In remarks reportedly posted on his Facebook page, Jim Sheridan said he had lost "respect and empathy" for the Jewish community.
Mr Corbyn said the comments were "completely unacceptable".
Mr Sheridan, who is now a councillor in Renfrewshire, has been suspended from the party.
'Independent investigation'
Mr Corbyn described the comments attributed to Mr Sheridan, which have since been removed, as "completely wrong".
The Labour leader said: "He did withdraw it later on, he has been suspended from membership, there will be an independent investigation – independent of me that is – so I can't comment any further.
Image copyright PA Image caption Jeremy Corbyn launched his tour of Scotland at a bus manufacturers in Falkirk
"There's no place whatsoever for anti-Semitisim in our party or anywhere in our society and our whole process is to ensure it doesn't happen."
Mr Corbyn said he was determined to "eradicate it completely" from the party.
Mr Sheridan is the second Scottish councillor to be suspended from the party over online comments made about the anti-Semitism row.
Earlier this year, Fife councillor Mary Lockhart suggested that headlines critical of Labour's position could be the work of the Israeli security services.
Image copyright Getty Images
Image copyright Getty Images Image caption Mr Corbyn was joined at Alexander Dennis by Richard Leonard, the leader of Scottish Labour
The row centres on Labour's new code of conduct on anti-Semitism, which its critics say is not as comprehensive as the International Holocaust Remembrance Alliance's guidelines.
Mr Corbyn told BBC Scotland that he wanted to safeguard "open and proper debate".
"We have adopted the IHRA statement and definition, we've adopted many of the examples," he said.
"I are very concerned, however, to make sure there can be open and proper debate about Israel and its foreign policy, and about the future for Palestinian people.
"Hence there has to be that space for debate, you cannot shut that down. But it can never, ever be conducted in an anti-Semitic way."
'Frankly laughable'
Scottish Labour leader Richard Leonard has said he wants Labour to have a "robust"