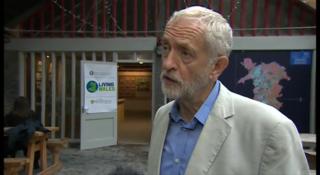 Image caption Mr Corbyn visited the Centre for Alternative Technology in Machynlleth on Friday
Labour leader Jeremy Corbyn claims his party's plans for a "green industrial revolution" will transform society and create high-quality jobs.
Mr Corbyn restated Labour's support for schemes such as a Swansea tidal lagoon ahead of a visit to Machynlleth, Powys.
He accused the UK government of a "failed approach" to climate change.
And he said a no-deal Brexit would cause "massive" damage to the Welsh economy.
Prime Minister Boris Johnson has said the EU had become less willing to compromise on a new deal with the UK because of the opposition to leaving in Parliament.
Mr Corbyn said: "It's going to be very, very difficult to see how the Welsh economy could sustain a no-deal Brexit.
"The issues of the interdependency of industry in Wales – Airbus, Ford, many other companies with Europe, as well as agricultural products – mean there always has to be a very close trading relationship with Europe."
Mr Corbyn made the comments during a visit to the Centre for Alternative Technology in Machynlleth on Friday.
Before the visit, Mr Corbyn said Labour in power at Westminster would follow the Welsh Government's lead on energy efficiency and in declaring a climate emergency.
Labour's energy plans – outlined by Mr Corbyn at last year's party conference – would also see the National Grid taken into public ownership and solar panels installed on nearly two million homes.
He said Labour policies would "benefit working-class people by cutting energy bills, creating good jobs in new, green industries and fighting the climate emergency".
Mr Corbyn also criticised the Conservatives and Liberal Democrats for the scrapping in 2013 of a homes insulation programme for England by the then coalition government.
He claimed the cancellation of the Warm Front scheme for poorer households had cost them a t