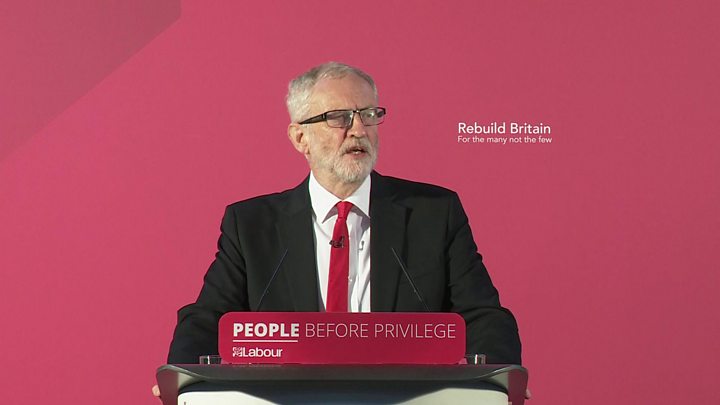 Media playback is unsupported on your device
Media captionCorbyn to PM: "We can't trust you"
A Labour government would hold a Brexit referendum soon after winning a general election, Jeremy Corbyn has promised.
The party leader also said it was his "absolute priority" to remove the chance of a no-deal exit from the EU happening on 31 October.
Speaking in Northampton, he outlined plans to ban fracking, end universal credit and build more affordable homes.
The government is promising that Brexit will happen on 31 October, with or without a new deal with the EU.
But last month, MPs passed legislation known as the Benn Act, which requires the government to seek an extension to the negotiating process from Brussels, if Parliament does not agree to any deal with the EU – or back a no-deal Brexit – before 19 October.
Prime Minister Boris Johnson has tried to call a general election, arguing it would break the Brexit impasse.
But opposition MPs have rejected this, meaning an election cannot go ahead at present.
Mr Corbyn said: "After an election, a Labour government would introduce legislation to ensure a referendum takes place."
He also said: "The second referendum is what we propose under a Labour government, when it's been elected, which would be not a choice between a no-deal cliff edge but between an intelligent arrangement with the European Union and Remain so that people would have a choice.
"Our absolute priority – and that's why I've been talking to other opposition parties – is to make sure that no-deal is taken off the table and an extension of membership is attained."
Mr Corbyn said Mr Johnson could not be trusted to abide by the terms of the Benn Act.
He added: "We can't trust you not to use the period of an election campaign to drive our country off a no-deal cliff edge that will crash our economy, destroy jobs and industries, cause shortages of medicine and food and endanger peace in Northern Ireland.
"So it's simple: obey the law, take no-deal off the table and then let's have the election."
Earlier, shadow foreign secretary Emily Thornberry said – in contrast to Mr Corbyn – that she could "see the sense" in having another referendum on Brexit before a general election.
Asked if she was lobbying her leader to support this series of events, she said: "A number of us are trying to think of a way through this."