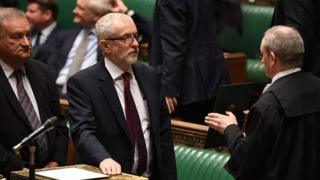 Image copyright AFP Image caption Mr Corbyn will continue to lead his party in Parliament into 2020
Jeremy Corbyn has urged Labour to lead "the resistance" to Boris Johnson's Tory government over the coming year despite its crushing election defeat.
In his new year message, the party's leader said it faced tough times ahead after its fourth defeat in a row but its movement remained "very strong".
He said there was "no other choice" but to continue the fight against poverty, inequality and climate change.
Several Labour MPs responded angrily, saying Mr Corbyn was in denial.
Neil Coyle, the MP for Southwark and Old Bermondsey, posted a message on Twitter with an image from 'Allo, 'Allo!, the World War Two sitcom set in France.
Skip Twitter post by @coyleneil
Labour isn't a rent-a-mob protest party, or a 'resistance' but a potential Party of Government when led well. Corbyn's team/message sank us to pre-war levels of representation. More poverty, homelessness & higher foodbank use will be the result. Join Labour to help us move on! pic.twitter.com/M9jafyo1bt
— Neil Coyle (@coyleneil) December 31, 2019
End of Twitter post by @coyleneil
And Phil Wilson, who lost his Sedgefield seat to the Conservatives, said Mr Corbyn was "one of the enablers of Boris Johnson".
The Labour leader has said he will stand down once a successor has been elected early in 2020. A number of senior Labour politicians have said they are considering entering the race to succeed him, in a contest due to begin in earnest in January.
The early contenders include Rebecca Long-Bailey, Emily Thornberry, Keir Starmer, Lisa Nandy and Clive Lewis – while Angela Rayner, Yvette Cooper, Jess Phillips, David Lammy and Ian Lavery could also put themselves forward if they secure enough support.
In his traditional leader's new year message, Mr Corbyn makes no direct reference to the election result or his own future, suggesting 2019 had been "quite the year for our country and for our Labour movement".
While the party is set to be out of power for at least another four years, he said it must continue to make its influence felt and stand up for its values.
Having led Labour so recently to defeat, this message was hardly going to be brimming with optimism.
But Jeremy Corbyn does focus on his legacy as he prepares to step down. He tells his supporters that they have built a movement which is 500,000 strong and that they can form the resistance to Boris Johnson,