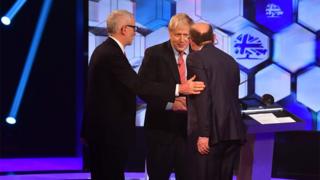 Image caption Jeremy Corbyn, Boris Johnson and moderator Nick Robinson
This head-to-head debate was touted as the last chance for both leaders to convince the public they are the best man for the job.
But after a tumultuous week for both Boris Johnson and Jeremy Corbyn, did either of them succeed?
We will find out for sure on 13 December, but for now, what were the key things from the 60-minute exchange?
1. Yes, Brexit
Let's be honest, it was always going to be a running theme in tonight's debate, wasn't it?
For Mr Johnson, his phrase of "get Brexit done" was used tens of times and seemed like his answer to most conundrums. There were a few awkward moments, though, when he used this tactic – for example, when saying the nastiness in politics that had seen MPs threatened could be ended by his deal. But the PM also got the backing of some audience members for his determination to put the whole issue to bed and move forward with his other priorities.
Mr Corbyn faced further scrutiny of Labour's Brexit position – to negotiate a deal with the EU and put it to a referendum – and his own position of staying neutral in any campaign. He was attacked by Mr Johnson for his "failure of leadership" by not taking a side, and asked repeatedly about his beliefs. But like the PM, Mr Corbyn won over some of the audience with his pledge to bring the country together, whatever the outcome of another vote on the EU – which he thinks he can achieve as PM by staying neutral.
2. The influence of the 'has-beens'
Image caption Audience member John Purcell: Are the ex-PMs "just a couple of has-beens"?
We have never seen an election where former prime ministers have intervened in quite the way they have this time. Rather than coming out for their successors, the likes of Sir John Major and Tony Blair have been condemning the leaders and questioning whether voters should back them – especially over their positions on Brexit.
In question one, we got our audience star in the form of John Purcell, as he asked whether such interventions were "worrying" to the party leaders. Or were the elder statesmen, Mr Purcell asked, "just a couple of old has-beens"?
The new kids on the block were polite to their predecessors, though happy to call them wrong.
Mr Johnson said he had the "utmost respect for all former Conservative leaders" "but I don't think [Sir John] is right". Instead he repeated that the Tories had an "oven-ready plan" for Brexit, and it would lead to a stronger future for the UK. For Mr Corbyn, both Mr Blair and Sir John were "welcome to make their comments".