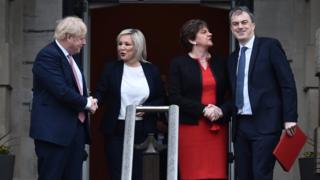 Image copyright Charles McQuillan Image caption Julian Smith received a lot of credit for helping to get the NI Executive restored
If the sacking of Julian Smith tells us anything, it's that in politics, sometimes it's not enough to be good at your job.
Just five weeks ago, he managed to help get devolution in Northern Ireland restored after a three-year impasse – when many had believed its chances of returning had died.
Now, he's been rewarded for his efforts by being dismissed from a position he only held for 204 days.
It's one of the shortest tenures held by a Northern Ireland secretary, but there is no denying he leaves the portfolio with a strong track record.
Gear change
Not long after he arrived at Stormont last July, it became clear he was a completely different operator to his recent predecessors: Karen Bradley and James Brokenshire.
Both had failed to engage meaningfully with unionist and nationalist parties, and it felt like neither truly understood the complexities of Northern Ireland.
Enter Julian Smith.
While his government was, at that time, still being propped up by the DUP in a confidence-and-supply arrangement, he made it clear that would not stop him from getting stuck in.
Instead of the hands-off approach journalists and the parties here had become accustomed to, there was a noticeable gear shift from Julian Smith – his experience as a former government chief whip presumably coming in handy.
He managed to foster warm relations with his Dublin counterpart, Tánaiste (Irish deputy PM) Simon Coveney, during the Stormont talks, which was important in the context of Brexit negotiations.
Image copyright Charles McQuillan Image caption Julian Smith and Simon Coveney faced accusations of bouncing the Stormont parties into agreeing a power-sharing deal
It culminated in the New Decade, New Approach document, presented by both men with the dramatic backdrop from the foot of Stormont's Parliament Buildings, last month.
Perhaps it was all downhill from there.
The decision to sack Julian Smith was Boris Johnson's decision alone – and while he had praised him in the days after the power-sharing deal was agreed, with devolution back up and running, the prime minister may have felt it was time to cut him loose.
It's no secret the men did not see eye to eye on many issues, not least Brexit.
Julian Smith had supported remain during the EU referendum, and while he had accepted the path Mr Johnson's government was on, he was not afraid to challenge him in cabinet – rather than being quietly loyal.
Official cabinet papers were leaked last September that appeared to show the men clashing over the prime minister's decision to suspend Parliament, as the Brexit drama was coming to a climax.