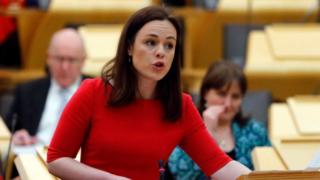 Image copyright Getty Images Image caption Kate Forbes was formerly public finance minister, but has now been promoted
Kate Forbes has been appointed as the Scottish government's new finance secretary following the resignation of Derek Mackay.
The 29-year-old became the first woman to set out a budget at Holyrood or Westminster when she stepped in for Mr Mackay earlier this month.
In a reshuffle of Nicola Sturgeon's cabinet, Fiona Hyslop will now take on extra responsibility for the economy.
Jenny Gilruth has joined the government as Europe minister.
Ms Sturgeon said the appointments "bring new talent into government and deliver a real focus, not only on driving forward our economy, but also on addressing the challenges of Brexit, increasing our population and ending Scotland's contribution to the climate crisis".
The appointments of Ms Forbes and Ms Gilruth will be confirmed in a vote by MSPs on Tuesday.
Ms Forbes was praised by both SNP colleagues and opposition MSPs after stepping in due to Mr Mackay's resignation on the eve of the budget.
Mr Mackay quit on 5 February after saying he had "behaved foolishly" by sending hundreds of social media messages to a 16-year-old boy.
He was subsequently suspended from the SNP pending investigation, and Ms Sturgeon told BBC Scotland that he "is receiving some medical assessment and treatment and won't be in parliament over the next few days".
Ms Forbes set out the government's tax and spending plans in his place, and defended them during a scrutiny session with Holyrood's finance committee. MSPs are due to debate the plans on 27 February, giving her only a few weeks to secure a budget deal with opposition parties.
Image copyright Scottish government Image caption Ms Sturgeon said she was pleased to promote "two incredibly talented colleagues"
The reshuffle of the cabinet sees the finance and economy portfolios split up, with Ms Forbes taking the finance role and Fiona Hyslop adding economy and fair work to her previous job of culture secretary.
Ms Hyslop's responsibilities for external affairs and tourism are being taken on by Constitution Secretary Mike Russell and Rural Economy Secretary Fergus Ewing respectively.
In the junior ministerial team, Ben Macpherson takes on Ms Forbes' old job of public finance minister, while Ms Gilruth has entered government to replace him as Europe and international development minister.
Ms Sturgeon said she was "pleased to be able to put Scotland's finances and economy into the hands of two incredibly talented colleagues".
She said Ms Forbes and Ms Hyslop would "continue to drive forward our economy, support our key industries and maintain Scotland's long tradition as an outward-looking,