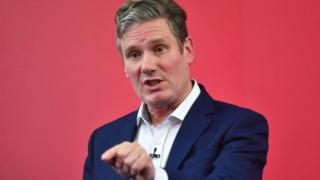 Image copyright Getty Images
Labour leadership hopeful Sir Keir Starmer has called for unity and said "factionalism has to go" if the party is to recover from its election defeat.
Speaking at his campaign launch in Manchester, he said: "We are not going to trash the last Labour government… nor are we going to trash the last four years [under Jeremy Corbyn]".
He has also vowed to end anti-Semitism in the Labour Party.
Sir Keir is one of six candidates running to replace Mr Corbyn as leader.
The shadow Brexit secretary has won the backing of the UK's largest trade union, Unison.
However, on Saturday the grassroots group Momentum said it will ballot its members on backing Rebecca Long Bailey in the contest.
During his speech on Saturday, the MP for Holborn and St Pancras said: "We can't fight the Tories if we are fighting each other. Factionalism has to go."
He criticised Prime Minister Boris Johnson, describing him as a "man of no principles and no moral compass, who will go anywhere to stay in power".
However, Sir Keir said he would not "trash" the Labour governments of Tony Blair or Gordon Brown, or the previous leadership of Mr Corbyn. He said there had been "many important moves" made.
"Jeremy Corbyn was right to make us the party to fight austerity," Sir Keir said. "We build on that, we don't trash it going forward."
He said Labour should treat the 2017 manifesto as its foundation going forward, saying the next manifesto must "give hope to people that the next 20 years can be better with a Labour government".
Speaking to the BBC after the speech, he said: "I think what we need to do is make a radical and relevant case to [voters] for change. They need to know it's going to work and trust us to implement it.
"I'm absolutely committed to the fundamental change needed to deal with the rank inequality in this country."
Image caption There are currently six MPs in the Labour leadership contest
BBC political correspondent Nick Eardley called Sir Keir "the man to beat" in the contest and said the leadership hopeful was "not shying away from being radical".
He added: "But it's interesting that he said 2017's manifesto should be a foundation – that was a lot less radical than the 2019 manifesto, which many in the party believed offered far too much far too quickly."