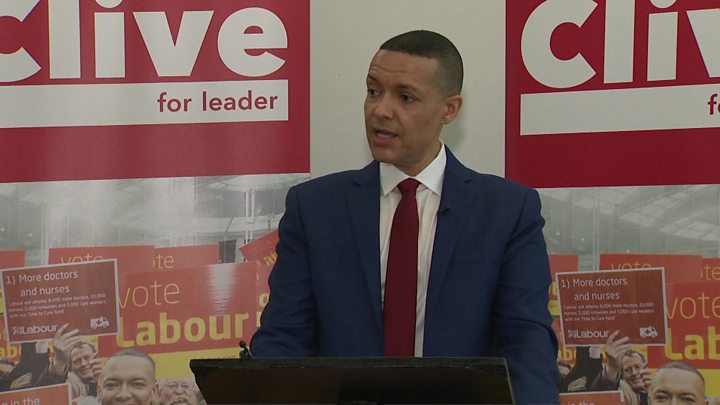 Media playback is unsupported on your device
Media captionLewis suggests referendum on royals
Labour leadership candidate Clive Lewis has said there should be a referendum on the future of the Royal Family.
Speaking at his campaign launch in London, he said: "A lot of people would like to see the monarchy scaled down."
He said he understood the Duke and Duchess of Sussex's decision to step back as "senior" Royal Family members.
Mr Lewis is running to replace Jeremy Corbyn as Labour leader but has not yet secured the support from MPs and MEPs needed to stay in the contest.
The shadow Treasury minister needs 22 MPs or MEPs to nominate him in order to stay in the race.
Asked about the Royal Family at his leadership campaign launch in Brixton, south London, Mr Lewis said he understood why Prince Harry and his wife Meghan wanted to step back from their duties.
"I think it is extremely unfortunate and a sign of the media we have that they feel they had to do this," he said, arguing that Meghan had suffered from racism in the press.
He said a lot of people had discussed the Royal Family being "quite large" and asked: "Why not have a referendum on the future of the Royal Family?"
Mr Lewis added: "Let's talk about what a modern state looks like and what the role of the Royal Family would be."
"I'd rather see us as citizens than subjects in the 21st Century," he said.
Are we citizens or subjects?
By Tom Edgington, BBC Reality Check
Historically, the term "subject" has often been associated with people belonging to a country under a monarchy.
Until 1949, nearly everyone with a close connection to the UK was called a "British subject".
After that date, citizenship became the main form of nationality in the UK – replacing most people's "British subject" status.
People in the Commonwealth – an association of countries formerly under British rule – continued to be collectively referred to as "British subjects" until 1983, according to the government (although it wasn't an official status for most of them).
Nowadays, only a very small number of people qualify as British subjects, according to the government. For example, someone who is not recognised by any country as having a nationality may be allowed to become a British subject.
After his campaign launch,