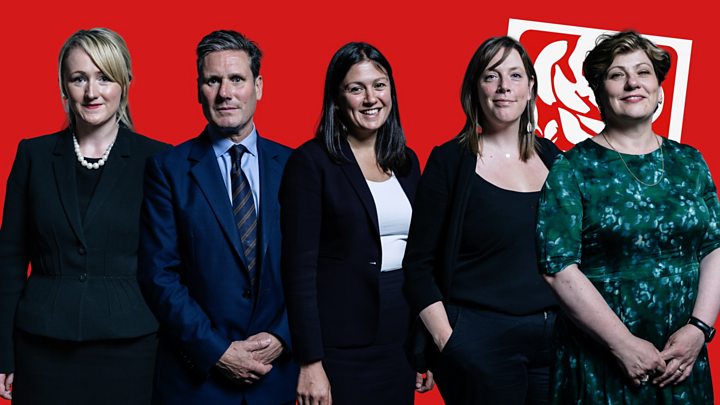 Media playback is unsupported on your device
Media captionFive candidates remain in the race for the Labour leadership
Two of the candidates to succeed Jeremy Corbyn as the next Labour leader will launch their campaigns later.
Speaking in Manchester, Rebecca Long-Bailey will promise to end the "gentlemen's club of politics" by devolving powers to regions.
And Emily Thornberry will highlight her experience challenging Boris Johnson in a speech in her home town of Guildford in Surrey.
The first Labour hustings event will take place in Liverpool on Saturday.
Mrs Long-Bailey and Ms Thornberry will be joined at the debate by fellow candidates Lisa Nandy, Jess Phillips and Sir Keir Starmer.
Labour members will also be able to put questions to the contenders to become Labour's deputy leader – Rosena Allin-Khan, Dawn Butler, Richard Burgon, Ian Murray and Angela Rayner.
Mrs Long-Bailey received a boost on Thursday when she secured the support of the grassroots organisation Momentum.
Setting out her leadership pitch, the shadow business secretary will say the British state needs "a seismic shock, to prise it open at all levels to the people".
"Where I grew up, Westminster, even London, felt like a million miles away," she will say.
"The story of the last few years is that many people feel there is something wrong with their laws being drafted hundreds of miles away by a distant and largely unaccountable bureaucratic elite in Brussels.
"But I'll be honest, Westminster didn't feel much closer, and it still doesn't today."
Mrs Long-Bailey will vow to move power from London to local levels and from chief executives to workers.
Asked whether he was a member of the "gentlemen's club of politics" that Mrs Long-Bailey will pledge to end, Sir Keir said he had "never been a member of a gentlemen's club" and was "determined to deliver change for millions of people in this country that desperately need it".
The shadow Brexit secretary was also asked about rumours he was the inspiration for the character of Mark Darcy in the Bridget Jones books. "I honestly don't know the answer," he replied.
'Battle-hardened'
Ms Thornberry, the shadow foreign secretary, scraped through the first stage of the race, securing the required amount of support from MPs minutes before the deadline.
At her campaign launch, near the Bellfields Estate where she grew up, the MP for Islington South and Finsbury, in London, will emphasise her experience in the shadow cabinet.