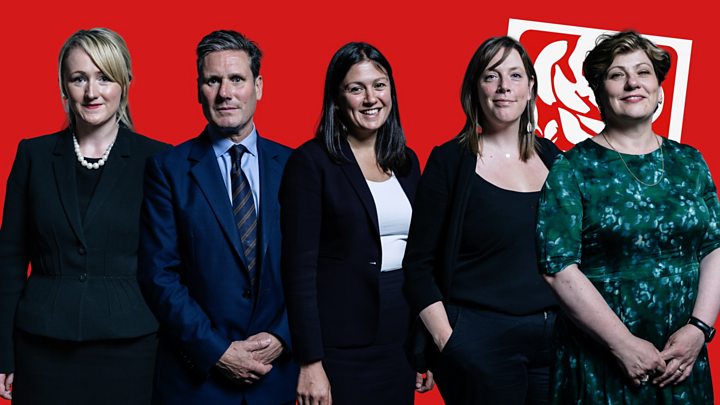 Media playback is unsupported on your device
Media captionFive candidates remain in the race for the Labour leadership
Labour members are grilling the five MPs standing to succeed Jeremy Corbyn as party leader for the first time at an event in Liverpool.
Rebecca Long-Bailey, Emily Thornberry, Sir Keir Starmer, Lisa Nandy and Jess Phillips are all making their pitch to the party faithful.
The hustings is the first in a series of events across the country before the next leader is elected on 4 April.
Those running to be deputy leader will also face party members.
Candidates Rosena Allin-Khan, Dawn Butler, Richard Burgon, Ian Murray and Angela Rayner will answer questions in a separate hustings later on Saturday.
The candidates all acknowledged that Labour had suffered from division and in-fighting.
"We have to be honest with ourselves that over the last four years we haven't been united as a party," said Mrs Long-Bailey.
Ms Phillips said the "name-calling has been horrendous" and the party should have a "broad team" involving the membership.
Sir Keir said that the unity of the party "has to be modelled from the top".
'Democratic revolution'
Candidates were asked how they would bring the party and the country together over Brexit.
Warning of the threat of no trade deal with the EU at the end of the transition period this year, Ms Thornberry said the party needs "someone in this fight who has been on the right side all along".
Ms Nandy said Labour has allowed the Tories to divide it, pitting the young against the old and cities against towns, as they "airbrushed out the nuance".
Sir Keir urged the party to let go of the Leave and Remain labels and "focus on the future", while Ms Long-Bailey said the country needed a "democratic revolution" because voters disliked the centralisation of power in Westminster as much as Brussels.
The hunt for a new Labour leader was triggered when Mr Corbyn stepped down following the party's fourth general election defeat in a row.
The hustings follows the campaign launches of shadow business secretary Mrs Long-Bailey and shadow foreign secretary Ms Thornberry on Friday.
Mrs Long-Bailey promised to "shake up" how government works and end the "gentlemen's club of politics" by moving power out of London.
Pledging to "sweep away the House of Lords", she said she would replace it with an elected senate outside of the capital.