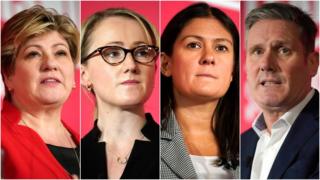 Image copyright Getty Images Image caption Rebecca Long-Bailey, second from left, is competing against Emily Thornberry, Lisa Nandy and Sir Keir Starmer for the top job
Rebecca Long-Bailey has become the third Labour leadership hopeful to make it onto the final ballot after the Fire Brigades Union endorsed her bid.
She joins rivals Sir Keir Starmer and Lisa Nandy – the fourth candidate, Emily Thornberry, is yet to gain sufficient support.
The FBU has also endorsed Richard Burgon for deputy, meaning he also reaches the final stage.
The winners of both contests will be announced on 4 April.
In a statement, the FBU's general secretary, Matt Wrack, said the shadow business secretary was the only candidate who "has what it takes to transform the country, win back Labour's heartlands, and put power back in the hands of working class people".
He added: "There can be no going back to the so-called centrism of New Labour – we never again want to see our party turn its back on workers, public ownership, and its own members."
Mrs Long-Bailey said she was "absolutely delighted" to get the nomination, adding the union "embodies the values of our movement".
To make the shortlist for the members' vote, candidates need to have the backing of two unions and one of Labour's affiliate groups – representing 5% of party membership – or 33 constituency Labour parties (CLP).
Shadow Brexit secretary Sir Keir was the first to pass the hurdle, getting the support of Unison, the Union of Shop, Distributive and Allied Workers (Usdaw) and the Socialist Environmental and Resources Association (Sera).
Next was Ms Nandy, with the National Union of Mineworkers, the GMB and Chinese for Labour behind her.
Challenge to rivals
Shadow foreign secretary Ms Thornberry does not have any union support yet and has the nomination of four CLPs. However, she has until 14 February to reach the threshold and make the ballot.
Mrs Long-Bailey already had the support of Unite and the Bakers and Allied Food Workers Union (BAFWU), but was waiting for one more group to secure her place.
At a campaign rally on Wednesday, the shadow business secretary challenged her three opponents to match her commitment not to water down the party's public ownership plans.
She said the proposals Labour stood on at the election to nationalise rail operators, Royal Mail, water firms and the National Grid remained popular and must not be ditched despite its election defeat.
She urged her three rivals to "endorse them without hesitation"