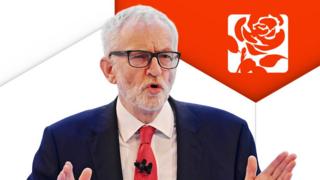 The Labour Party has launched its 2019 election manifesto, with the slogan It's Time For Real Change. It sets out the polices the party aims to introduce should it win the election.
The full document runs to 105 pages. But what are the promises that will grab the public's attention, and, potentially win over voters on polling day, 12 December?
1. Hold a second referendum on Brexit
Labour will renegotiate a new Brexit deal within three months, and hold a referendum on the deal or Remain within six months
Brexit is Labour's elephant in the room.
Jeremy Corbyn wants to talk about his other policies, and the short "The Final Say on Brexit" section only begins on page 89 of this manifesto.
The other main UK-wide parties have simple slogans, but Labour's policy is more complicated and doesn't fit on a manifesto cover or the side of a bus.
It promises to renegotiate a new Brexit deal within three months – based on a new UK-EU customs union and close EU single market alignment.
That deal would then be put to a legally-binding referendum within six months, alongside the option to remain in the EU.
Labour argues the other two parties appeal either to Leavers or to Remainers, while it wants to appeal to both and to give the people the final say.
It would implement the referendum result immediately.
But Mr Corbyn will not say how he would vote in the referendum. And that continues to divert attention away from his other practical policies.
2. Introduce a National Care Service
Labour will provide "community-based, person-centred" support in England, including free personal care
Labour's plan for a comprehensive National Care Service is bold, the question will be whether their costings stand-up to scrutiny.
That is not just about the affordability of the plan now, but also its costs as the population ages.
At the heart of the policy is free personal care for older people who need help with day-to-day tasks like washing, dressing and medication.
This system already operates in Scotland, but in England, the idea was rejected 20 years ago by the then-Labour government as too expensive.
There are also promises to double the number of people receiving help, so easing NHS pressures.
Plans to reform the care system have ended up as political footballs in past elections – the challenge for Labour will be building a consensus around their ideas.
3. Net-zero target
To put the UK on track for a net-zero carbon energy system within the 2030s.